Le Devoir Commemorative Envelope
January 10, 2010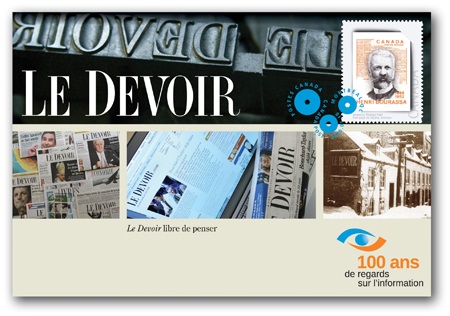 On January 10, 1910, Le Devoir founder Henri Bourassa made a bold statement on the front page of the paper's inaugural edition. The independent Montréal-based daily's headline proclaimed that "to ensure the triumph of ideas over appetites, of the public good over partisan interests, there is but one means: to awaken in people, and especially in the ruling classes, a sense of public duty in all its forms."
For the past 100 years, Le Devoir has remained faithful to Bourassa's mandate. The paper remains free of any particular ideology or politic, and through its unwillingness to bow to power, it has become the advocate of public ethics, social progress and the rights and freedoms of everyday citizens. It has defended the French language throughout Canada and chronicled the evolution of Québec's culture. Le Devoir's unwavering commitment to journalistic excellence and integrity has transformed the newspaper into an institution, with a reputation revered throughout the Francophone world.
The commemorative envelope was designed by Christian Tiffet, the artistic director for Le Devoir. "I wanted to create a visual that would illustrate the strong presence Le Devoir has had in Québec society for the past 100 years," says Tiffet. The photographs featured speak to the passage of time, from 1910 to today, and the ways in which the institution has adapted to change. Tiffet explains, "Recent editions of Le Devoir and its web page, its modern product, are featured alongside an image of Le Devoir's first publishing house, which, along with the lead typography that runs across the top of the envelope, recall the institution's beginnings and evoke its long history." The envelope also features Le Devoir's centennial logo, designed by Tiffet, and a Picture Postage™ stamp that recreates the 1968 commemorative issued to honour Henri Bourassa.
As Le Devoir enters its second century with new opportunities made possible by innovations in information technology, it remains inspired by its founder's values of liberty, equality, solidarity and integrity. The only independent newspaper in Québec, Le Devoir is free thinking defined.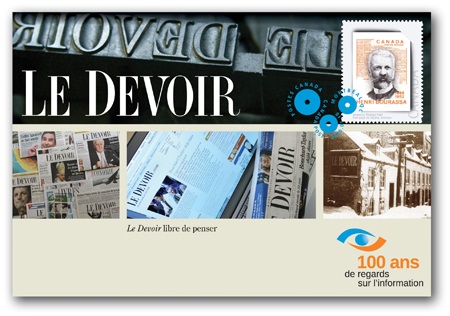 Product #: 341806
Denomination: Domestic postage paid
Design: Christian Tiffet, Le Devoir
Quantity: 10,000
Illustration: Production: André Monette, Canada Post Graphic Design Group
Shop