Queen Elizabeth II
January 11, 2010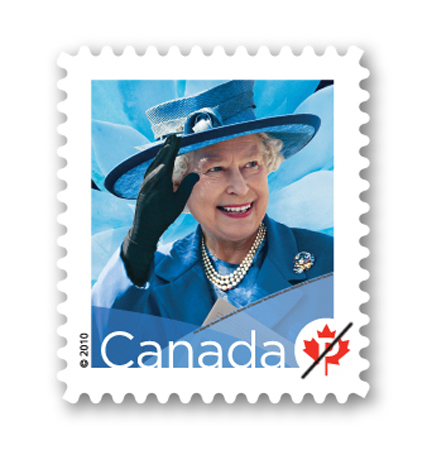 Canada Post's definitive program wouldn't be complete without a royal touch. This year, a lively photograph of Her Majesty Queen Elizabeth II, Queen of Canada, taken during her most recent royal visit to Canada, graces a PERMANENT™ stamp.
"Canadians look forward to The Queen's visits," says Doreen Colonello, Associate Creative Director at Gottschalk+Ash International. "So we were delighted to feature a photograph of Her Majesty in her classic wave pose."
The close-up photograph is shown before a vibrant sedum. "We strove to create a royal and serene backdrop for The Queen, choosing this plant for its radiating leaves and its subtle colour gradations," explains Colonello. "Two blue curved transparent forms in the foreground echo the flower's rays, and the play between the rays in the background and the transparency in the foreground surround The Queen with a sense of light and warmth."
The stamp will be cancelled in Jasper, Alberta, where the photograph featured on the stamp was taken.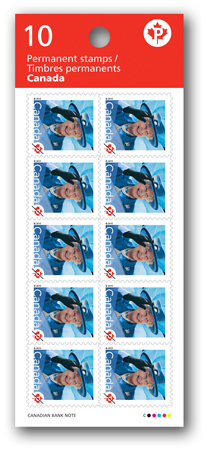 Booklet of 10 stamps
$5.70
Product #: 111195
Denomination: 1 x PERMANENT™ domestic rate
Design: Gottschalk+Ash International
Dimensions: 20.25 mm x 23.25 mm (vertical)
Printer: Canadian Bank Note
Printing Process: Lithography in 5 colours
Quantity: Continuous printing
Gum Type: Pressure sensitive
Illustration: Gottschalk+Ash International
Perforations: Simulated perforation
Tagging: General, 4 sides
Photography: Her Majesty Queen Elizabeth II, Queen of Canada, Department of Canadian Heritage; Headlight Inc. Background: Trinette Reed (Digital Vision), Getty Images
Paper Type: Tullis Russell
OFDC Cancellation Location: Jasper, Alberta
Shop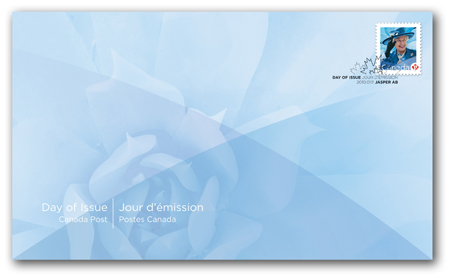 Product #: 411195130
Quantity: 19,000
OFDC Cancellation Location: Jasper, Alberta
Shop