Vancouver 2010 Olympic Winter Games
January 12, 2010

"Holding an Olympic Games means evoking history."
Pierre de Coubertin, founder of the modern Olympic Games
The Coast Salish people were the first to discover the breathtaking abundance of the Pacific Northwest thousands of years ago, when they settled in the Lower Mainland of what would become British Columbia. Much later, in 1792, Captain George Vancouver put the region on the map when he wrote of "innumerable pleasing landscapes" along the shores of the city that would later bear his name. This winter, sports fans and top athletes from around the world will have the chance to embrace the Vancouver area's rich cultural heritage and discover its natural splendours when they unite for a celebration of human spirit and achievement, the Vancouver 2010 Olympic and Paralympic Winter Games.
With venues stretching from the cosmopolitan streets of Metro Vancouver to the world-class Whistler Blackcomb ski resort, visitors will get a taste of both the urban appeal and panoramic land and seascapes for which this bustling multicultural metropolis is famous. And thanks to Tandem Design, a team of Vancouver-based designers hired by Canada Post, they'll have a special keepsake to remember it by.
"The design team's goal was to create a souvenir for people coming to the Games," says Alain Leduc, Manager of Stamp Design and Production at Canada Post. "They decided to focus on the venues, with an emphasis on how stunning they are." The designers seized the opportunity to create a lasting image of their city to share with visitors. The two stamps feature spectacular photographs of Vancouver and Whistler. The photos represent the Vancouver 2010 Sea-to-Sky theme, a concept linking the scenic coastal city with Whistler's majestic ski slopes.
"Working with photographs can be difficult because they are very rarely meant to be viewed at such a small scale," explains Leduc. "In the case of the Whistler photograph—a very dramatic shot—we added a darker blue to enhance the contrast. As for the Vancouver shot, we extended the glow coming in from the left-hand side to make it clear that the photograph was taken at sunset."
The Sea-to-Sky theme is extended on to the souvenir sheet, where the stamps are positioned between a totem pole, grounded in the land, and an orca whale in the sea. The stamps are set against a photograph of an inukshuk, located at the peak of Whistler Mountain. "It's a wonderful expression of the inspiration for the Vancouver 2010 Olympic Winter Games emblem," says Leduc of the design concept.
The booklet also showcases the area's appeal, with envelope seals that work in some other defining aspects of British Columbia. A totem and an inukshuk speak to the region's rich Aboriginal history and culture, and a Kermode bear, orca whale and eagle—creatures of the land, water and sky—evoke Vancouver's spectacular wildlife scene and its varied natural settings.
To learn more about the Vancouver 2010 Olympic and Paralympic Winter Games, visit vancouver2010.com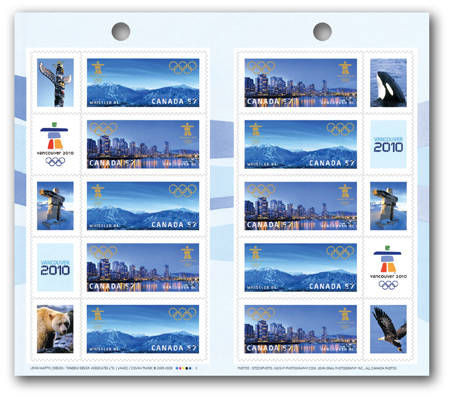 Booklet of 10 stamps
$5.70
Product #: 413756111
Denomination: 2 x 57¢
Design: Tandem Design Associates Ltd | VANOC™ ©2005-2009
Dimensions: 45.25 mm x 23.25 mm (horizontal)
Printer: Lowe-Martin
Printing Process: Lithography in 6 colours plus varnish
Quantity: 4,550,000
Gum Type: Pressure sensitive
Perforations: Simulated Perforation
Tagging: General, 4 sides
Photography: iStockphoto, Insight-Photography.com, John Sinal Photography Inc., ALL CANADA PHOTOS
Paper Type: Tullis Russell
OFDC Cancellation Location: Vancouver, British Columbia
Shop