The Right Honourable Roméo LeBlanc
February 08, 2010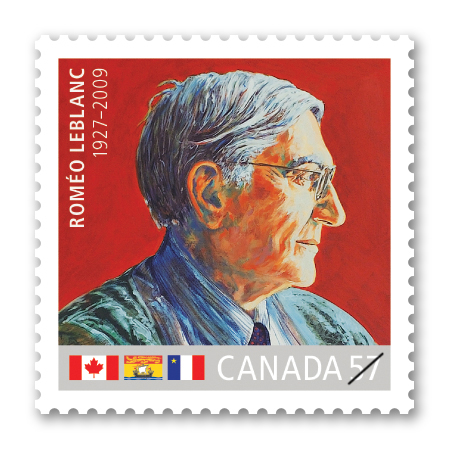 "If I am to be known for anything, I would like it to be for encouraging Canadians, for knowing a little bit about their daily, extraordinary courage. And for wanting that courage to be recognized."
The Right Honourable Roméo LeBlanc
This February, Canada Post will pay tribute to a former Governor General whose lifelong pride in his country and steadfast belief in the potential of Canadians inspired a long and distinguished career in public service.
The late Right Honourable Roméo LeBlanc was born in 1927, in Memramcook, New Brunswick. He began his career as a teacher before turning to journalism, working as a foreign correspondent for Radio-Canada. In 1965, LeBlanc became founding president of the CBC Radio-Canada Foreign Correspondents Association. He went on to serve as Press Secretary for Prime Ministers Lester B. Pearson and Pierre Trudeau.
In 1972, LeBlanc took his first step into the political arena when he was elected to the House of Commons, representing New Brunswick's Westmorland-Kent riding. He served as Minister of Fisheries in three of Prime Minister Trudeau's cabinets, becoming Canada's longest serving minister in this position. During his tenure, LeBlanc oversaw the expansion of Canada's coastal fishing zone from a 12-mile limit to its current 200-mile limit and helped shape the United Nations Convention on the Law of the Sea. He was appointed to the Senate in 1984 and Speaker of the Senate in 1993.
LeBlanc became the first Acadian Governor General of Canada—and the first from Atlantic Canada—on February 8, 1995, serving in this role until October 8, 1999. Aside from the official responsibilities that accompany this vice regal office, LeBlanc promoted various personal causes, including voluntarism and an appreciation for Canada's Aboriginal culture. He launched the Governor General's Caring Canadian Award to recognize the courage and dedication of ordinary Canadians, and proclaimed June 21st as National Aboriginal Day.
The commemorative stamp issued in Roméo LeBlanc's honour features his official portrait, painted by Ottawa artist Christan Nicholson. "I like how contemplative the portrait is," notes the stamp's designer, Dennis Page. "LeBlanc cared a lot about Canada and his legacy as Governor General reflects just how much thought he brought to his position." The Canadian, New Brunswick and Acadian flags are positioned below the portrait. "He was very proud of all three dimensions of his heritage. Each is instrumental in defining who he was, so we felt it was important to show them together," Page adds. Page and his design partner, Oliver Hill, used the stamp pane to tell of LeBlanc's service to Canada, featuring his personal Coat of Arms, the Order of Canada insignia, the Governor General's Caring Canadian Award, and the Governor General's Academic Medal.
"My father would have been very humbled by this wonderful honour from Canada Post," notes Dominic LeBlanc, son of Roméo LeBlanc and Member of Parliament representing Beauséjour, NB. "The stamp design, in its simplicity and warmth, reflects qualities he believed to be important. Our family is grateful for this generous tribute."
To learn more about the life and legacy of the Right Honourable Roméo LeBlanc, visit www.gg.ca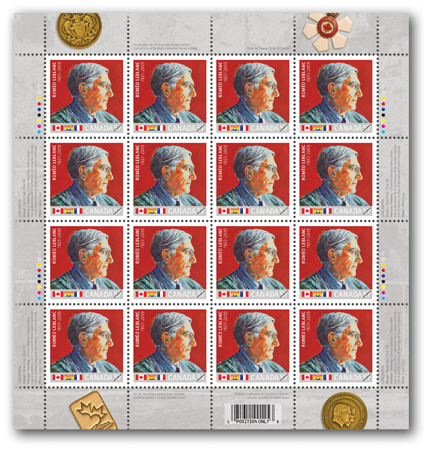 Product #: 403758107
Denomination: 1 x 57¢
Design: Dennis Page, Oliver Hill
Dimensions: 32 mm x 32 mm (square)
Printer: Lowe-Martin Use of painting courtesy of the National Capital Commission
Printing Process: Lithography in 8 colours
Quantity: 1,500,000
Gum Type: P.V.A.
Illustration: Christan Nicholson
Perforations: 13+
Tagging: General, 4 sides
Photography: Adrien Duey
Paper Type: Tullis Russell
OFDC Cancellation Location: Memramcook, New Brunswick
Shop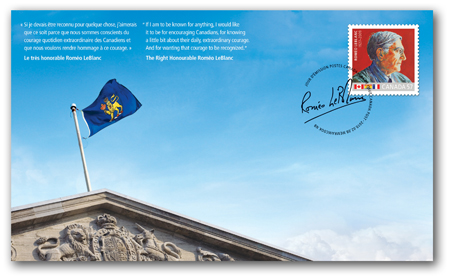 Product #: 403758121
Quantity: 19,000
OFDC Cancellation Location: Memramcook, New Brunswick
Shop