Canada Strikes Gold!
February 14, 2010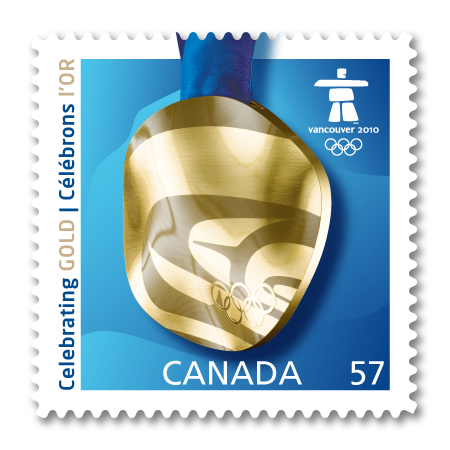 Share in our golden moment… buy Canada's Celebrating Gold stamp now! Click Here.
Canadians were treated with the experience of a lifetime when the iconic Maple Leaf was hoisted above the Olympic podium. As Canada's first-ever gold medal victory on Canadian soil, this was history in the making—a binding moment of honour and pride that will live on for years to come. And like all our country's defining moments, we wanted to put our stamp on it. So we embarked on a very special project to honour this historic win—a project that was shrouded in absolute secrecy until the coveted gold medal was in Canadian hands.
"Unlike most stamps, which are based on suggestions provided by the public, the idea to issue a stamp on the day of Canada's first gold medal victory evolved out of a discussion about how to commemorate this momentous event in a unique way," explains Jim Phillips, Director of Stamp Services at Canada Post. "It received unanimous approval by the Stamp Advisory Committee," he adds. Throughout the design and production process, the project was kept completely under wraps. "Every stamp topic is confidential for a period of time, but this one demanded a whole new level of secrecy, since there was a chance, however unlikely, that it may never be released. Information was limited to those directly involved in the stamp's design, approval and production. Even in our Stamp Services department, many were not informed until it was necessary to do so."
The degree of confidentiality speaks to the level of risk involved in the project. "Though we had faith that Canada would win gold, we had to be ready for anything. There was the financial risk of commissioning the design and production of stamps that may never be issued. And, if not issued, we had to have the resources in place to destroy every stamp immediately."
For an organization that is used to dealing with multi-decade to century milestones, the notion of commemorating an event within 24 hours of its occurrence came with its own set of challenges. "Once the gold medal was won, we had to act fast," Phillips notes. "The stamps had been waiting in our Ottawa warehouse, and our hope was to have them available in Vancouver and as many Canadian post offices as possible within 24 to 48 hours. We also had to take into account the hometown of the winning athlete(s), where we knew the demand would be particularly high."
The stamp, designed by Naomi Broudo and Violet Finvers of the Vancouver-based firm, Tandem Design, showcases a Vancouver 2010 Olympic gold medal. "The medal is so unique that it posed certain design challenges," says Alain Leduc, Manager of Stamp Design and Production at Canada Post. "When you look at it from the front, it's a perfect circle; you lose some of its defining features, like the wavy shape. So we decided to feature a photograph of the medal hanging, with the ribbon bleeding off the top. This approach felt the most natural." Gold maple leaves scattered around the booklet and souvenir sheet are a special tribute to this Canadian celebration, and a creative play on the subject of the stamp.
Canada Post is thrilled to have the opportunity to issue this remarkable commemorative. We entered into the creation of this stamp confident that all the factors required to win Olympic gold on Canadian soil were in place. And while the project was fraught with challenges and risks, the opportunity to be a part of this historic victory was absolutely worth it.
To learn more about the Vancouver 2010 Olympic and Paralympic Winter Games, visit vancouver2010.com
Each a fascinating work of art in its own right, no two medals designed for the 2010 Winter Games are the same. Produced and struck by the Royal Canadian Mint, their undulating form—the first of their kind in Olympic history—evokes the iconic land and seascapes of the Pacific Northwest. Leading-edge designs pay homage to the distinct character of the region, with one-of-a-kind engravings of West Coast First Nations artwork on each medal.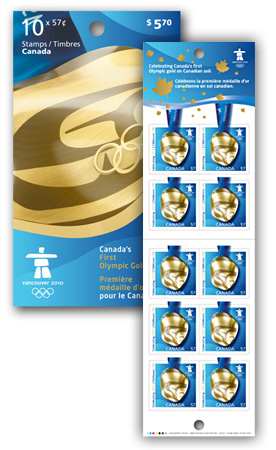 Booklet of 10 stamps
$5.70
Product #: 413776111
Denomination: 1 x 57¢
Design: Tandem Design Associates Ltd.
Dimensions: 32 mm x 32 mm (square)
Printer: Lowe-Martin
Printing Process: Lithography in 6 colours plus varnish
Quantity: 5,000,000
Gum Type: Pressure sensitive
Perforations: Simulated Perforation
Tagging: General, 4 sides
Photography: VANOC™ ©2005-2009
Paper Type: Tullis Russell
OFDC Cancellation Location: Vancouver, British Columbia
Shop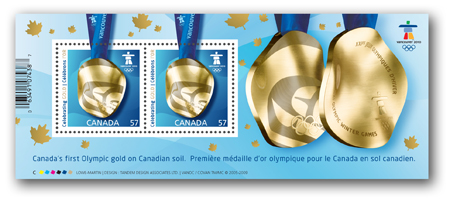 Souvenir sheet of 2 stamps
$1.14
Product #: 403776145
Dimensions: 150 mm x 60 mm (horizontal)
Quantity: 300,000
Gum Type: P.V.A.
Perforations: 13+
Shop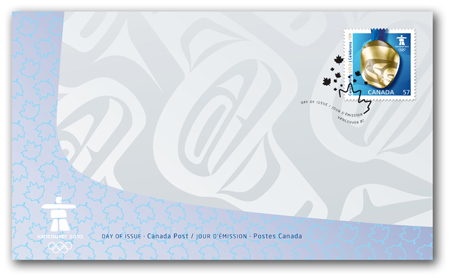 Product #: 413776131
Quantity: 20,000
OFDC Cancellation Location: Vancouver, British Columbia
Shop