Celebrating our Olympic spirit
February 22, 2010

We can hear it in the stadiums, alive with fans cheering; see it in the faces of eager children, decked in red and white; and feel it in the energy that Canadians create when we all come together as one. This February, during the Vancouver 2010 Olympic Winter Games, Canada Post will issue a set of commemorative stamps that celebrate the exhilaration and binding power of the Olympic Spirit.
"For fans and athletes alike, the Games are an emotional event," explains Alain Leduc, Manager of Stamp Design and Production at Canada Post. "The Signals Design Group, the design team behind the issue, had as a goal to create a visual that could represent both the experience and memory of that emotion." Inspiration for the design was derived from the Olympic Movement's core goal: "To contribute to building a peaceful and better world by educating youth through sport practised without discrimination of any kind and in the Olympic Spirit, which requires mutual understanding with a spirit of friendship, solidarity and fair play." Leduc explains, "The designers wanted to reflect this spirit through the reaction in the eyes and faces of Canadian youth. Their idea was that we, as Canadians, have our own unique way of celebrating, supporting and displaying our national pride; it doesn't necessarily include marching bands and balloons. It's often more subtle. It's commonplace to see young Canadians in toques and painted faces cheering on their favourite teams and athletes. And the iconic maple leaf, along with the red and white colour scheme, tell the viewer immediately that this is a Canadian event."
The backgrounds of the two stamps feature photographs of four events: men's four-man bobsleigh, women's cross-country sprint, men's short track relay speed skating, and Canadian cross-country skier Chandra Crawford as she accepts her gold medal at the Torino 2006 Olympic Winter Games in Italy. "The designers chose these particular images from hundreds of contenders because they contained gender representation, individual and team events, colour, form, and energy," Leduc notes.
The graphic patterns in the background of the first day cover, souvenir sheet and booklet extend the energies within the stamp in abstract ways that can be read as movement, ice, snow, carved lines from blades and skis, and indoor and outdoor environments. "The success of this design relies heavily on the arrangement of its components," says Leduc of the design team's vision. "Each element contains energy arcs that we carefully layered to make it dynamic, yet accessible. By overlapping parts of each scene and altering their planes of axis, they work individually and together in a motion-filled circulating collage."
The project carried special meaning for the Vancouver-based designers, who also created last year's definitive stamps featuring winter sports. "Anticipating all this happening in our own backyard was certainly an underlying influence in our design process," notes Keith Martin, Senior Designer. "This commemorative issue wraps up the memories and experiences we will take from the Games and brings everything home, so to speak."
To learn more about the Vancouver 2010 Olympic and Paralympic Winter Games, visit vancouver2010.com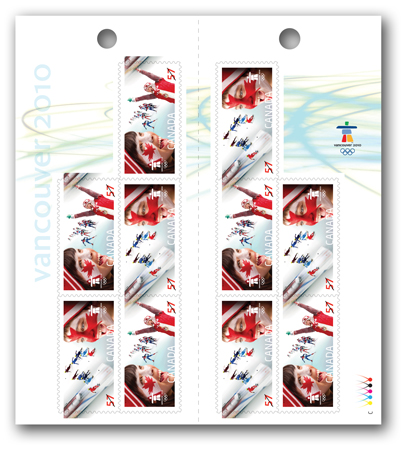 Booklet of 10 stamps
$5.70
Product #: 413759111
Denomination: 2 x 57¢
Design: Signals Design Group
Dimensions: 39.25 mm x 20.25 mm (horizontal)
Printer: Lowe-Martin
Printing Process: Lithography in 5 colours
Quantity: 3,000,000
Gum Type: Pressure sensitive
Perforations: Simulated Perforation
Tagging: General, 3 sides
Photography: Olympic Champion Chandra Crawford, Frank Gunn (The Canadian Press); Robert Lepage, Donald Milne, Oliver Lang, AFP (Getty Images)
Paper Type: Tullis Russell
OFDC Cancellation Location: West Vancouver, British Columbia. Richmond, British Columbia
Shop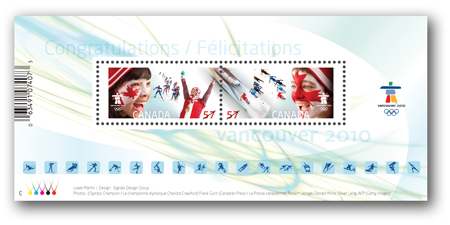 Souvenir sheet of 2 stamps
$1.14
Product #: 403759145
Denomination: 134 mm x 60 mm (horizontal)
Quantity: 220,000
Gum Type: P.V.A.
Perforations: 13+
Shop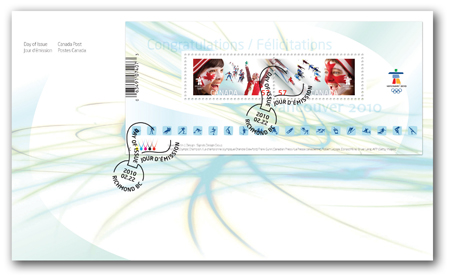 Product #: 403759144
Quantity: 19,000
OFDC Cancellation Location: West Vancouver, British Columbia. Richmond, British Columbia
Shop