The Four Indian Kings
April 19, 2010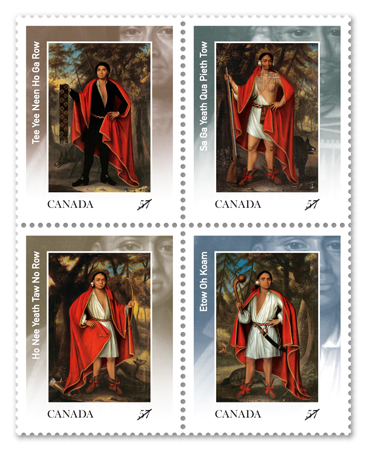 In the days before photography, the power of the painted portrait was supreme. It spoke to the connections between people and historical events, and to have one's likeness preserved was a privilege most often reserved for the wealthy and powerful. Today, those portraits provide invaluable records of days long past—of the people and occasions deemed important to a culture. This spring, we'll celebrate the 300th anniversary of four portraits that function as a record of early cultural and political diplomacy between the First Nations and the British Empire, and a negotiation that affected the course of power relations in North America.
In 1710, a delegation of "four Kings"—three from the Five Nations Confederacy of the Iroquois and one from the Algonquin nation—travelled to London accompanied by colonial leaders, and had an audience with Queen Anne. The aboriginal representatives were being courted for their alliance in England's war against France. Their visit created a sensation among Londoners, who wrote poems, ballads and songs about them. To commemorate their stay, the Queen commissioned court painter John Verelst to paint a portrait of each of her visitors. The paintings of the Four Indian Kings were held in the Royal Collection for more than a century before being acquired by the Government of Canada as national treasures in 1977.
"The Four Indian Kings are among the most significant documents held by Library and Archives Canada," notes Dr. Daniel J. Caron, Librarian and Archivist of Canada. "The earliest surviving full-length depictions of North American Aboriginals painted from life, the portraits present a vivid record of the authoritative Aboriginal presence at the meeting with the British Queen in London on April 19, 1710."
The set of four stamps featuring Verelst's paintings were designed by David Sacha and Karen Satok of the Toronto-based firm, Sputnik Design Partners. "Instead of using the portraits' actual frames, we decided to narrow in on the paintings themselves; that's where the story lies," says Sacha. "The strongest feature in each was the eyes of the Kings, so we used them as the focus in the background." A close-up of Tee Yee Neen Ho Ga Row, Emperor of the Six Nations, is featured on all pieces of the issue. "As the leader, he had the most prominence as far as the delegation is concerned," explains Sacha of the design choice.
The designers used the first day cover to expand on the story presented in the paintings, with images and brief bios of each of the kings. "Part of what made their visit so interesting is the individual backgrounds of the four men," notes Sacha. "We wanted people to know who they were and why they were chosen as representatives." The cancellation mark is a rendering of the seal that the "four kings" used to sign documents during their visit to London.
To learn more about the Four Indian Kings, visit www.portraits.gc.ca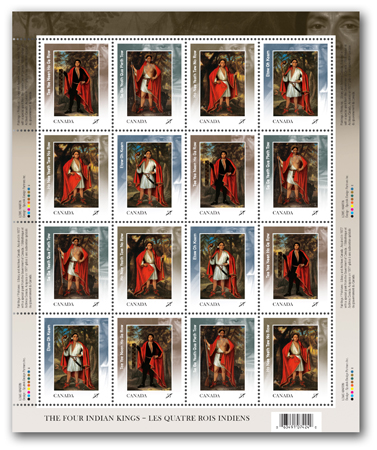 Product #: 403766107
Denomination: 4 x 57¢
Design: Sputnik Design Partners Inc.
Dimensions: 32 mm x 40 mm (vertical)
Printer: Lowe-Martin
Printing Process: Lithography in 9 colours
Quantity: 1,500,000
Gum Type: P.V.A.
Perforations: 13+
Tagging: General, 4 sides
Paper Type: Tullis Russell
OFDC Cancellation Location: Ottawa, Ontario
Shop