Roadside Attractions
July 05, 2010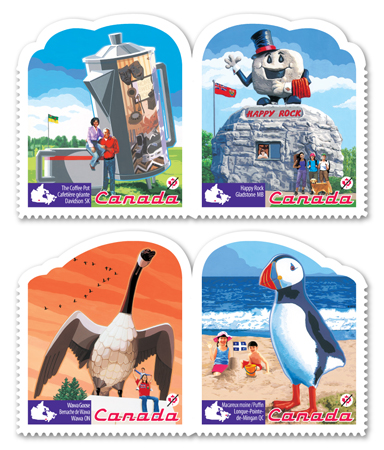 Last summer, we set off on a cross-Canada road trip, cruising past sweeping mountain vistas, rolling prairie grasslands, shimmering lakes and lush forests. But what really caught our eye were the roadside attractions we met along the way, from a man made of logs and a forest of sign posts, to a stone giant and a towering Easter egg. Each monumental in its own way, these quirky landmarks captured our imaginations and evoked the oh-so-friendly spirit of our small towns.
This year, as we continue our east-bound journey down the TransCanada Highway, the attractions are just as warm and welcoming. Case in point: Davidson, SK, where visitors are always greeted with a big (and we mean big) Coffee Pot. A tribute to the town's hospitality, it's believed that this 7.3 metre-tall landmark has the capacity to fill nearly 150,000 cups of coffee. And then there's Gladstone, Manitoba's town mascot, the Happy Rock. You just can't help but smile back at this jolly black-and-white rock decked in top hat and boots, grinning ear-to-ear as he welcomes visitors to the town.
It isn't long before we're in Ontario, cruising through lush Algoma Country—a nature lover's paradise. Just outside of Wawa, Ojibwe for "wild goose," the giant steel Wawa Goose stands poised for flight, alerting visitors that the town is a stopover for flocks of Canada Geese headed south for the winter. We continue east into Quebec, taking in the breathtaking scenery of the province's Côte‑Nord region, when we come upon another town that finds pride in the winged creatures that frequent it: Longue-Pointe-de-Mingan. This time we're greeted by a giant Atlantic Puffin—a tribute to the charismatic seabirds that live in colonies around the town's shores.
The second in this stamp series, these stamps are as fun and whimsical as the attractions they celebrate. Designer Fraser Ross of Halifax's Semaphor Design Company notes, "They're all iconic in their own way, so we wanted to give them each a monumental quality." The stamps feature traditional oil paintings by Nova Scotia artist Bonnie Ross. The detail and dimension within them was captured by applying layer upon layer of graduated colour. The lively colour scheme lends a cartoonish aspect to the scenes. Fraser adds, "This quality highlights the originality and quirkiness of these attractions; they're so much fun and we wanted the stamps to speak to that."
While working on the series, Ross came to see that the appeal of the attractions extends well beyond their quirks. "They're like historical landmarks in both a literal and figurative way," he says. "They literally mark a location, but they also mark a time and place." In fact, the attractions are so heavily linked to the culture and geography of the towns they represent that Ross thought it important to locate each in its natural setting—from Saskatchewan's prairie countryside, through lush forests, towards the sandy shores of the Mingan Archipelago. He also emphasized their location by working provincial flags and maps into each stamp, adding, "The maps highlight the idea of a Canada-wide road trip, as well as the west-to-east progression of the series."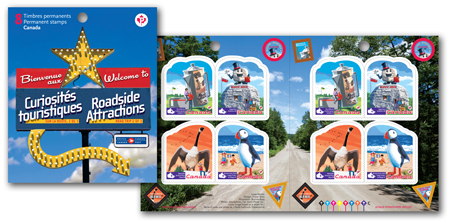 Booklet of 8 stamps
$4.56
Product #: 413767111
Denomination: 4 x PERMANENT™ domestic rate
Design: Fraser Ross
Dimensions: 35.25 mm x 41.50 mm (vertical)
Printer: Lowe-Martin
Printing Process: Lithography in 8 colours plus spot varnish
Quantity: 3,880,000
Gum Type: Pressure sensitive
Illustration: Bonnie Ross
Perforations: Kiss cut
Tagging: General, 4 sides
Photography: iStockphoto; Can Stock Photo Inc.; Booklet cover image based on a photo by Darla Hallmark, Dreamstime
Paper Type: Tullis Russell
OFDC Cancellation Location: Davidson, Saskatchewan
Shop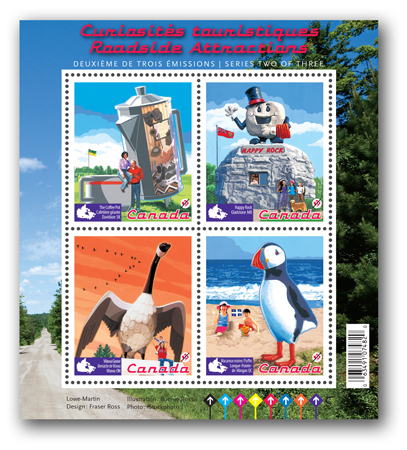 Souvenir sheet of 4 stamps
$2.28
Product #: 403767145
Dimensions: 98 mm x 109 mm (vertical)
Quantity: 210,000
Gum Type: P.V.A.
Perforations: 13+
Shop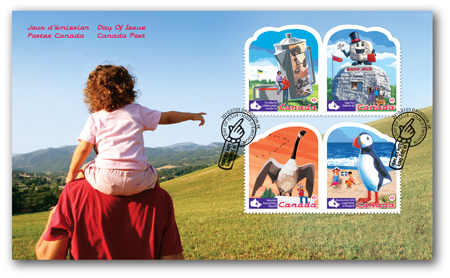 Product #: 413767131
Quantity: 19,000
OFDC Cancellation Location: Davidson, Saskatchewan
Shop