Saskatchewan Roughriders, 100th Anniversary - Commemorative Envelope
July 06, 2010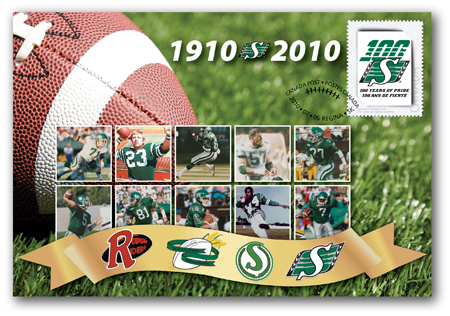 On July 6, 2010, near the start of this year's football season, "Rider Nation" will have even more to be proud of with the release of a Commemorative Envelope to mark the centennial of the Saskatchewan Roughriders. Set on the playing field, the envelope, designed by Céline Morisset of Canada Post's in-house design group, showcases a series of photographs depicting games played over the years. It also features a look back at team insignia, beginning with the September 1910 formation of the Regina Rugby Club and ending with the team's 100th anniversary logo. A customized Picture Postage™ stamp, printed on the envelope, boasts a football-shaped cancel. According to Roughrider President and CEO Jim Hopson, this postal tribute "is a great and unique opportunity to help the Roughriders celebrate their centennial anniversary across the country."
On the design, Canada Post designer Céline Morisset notes that simplicity ruled and in this case, "pictures truly are worth a thousand words." Her desire was to create a snapshot of the team's history, one that would highlight the players and team logos through the years.
Throughout their history, the Roughriders have had several multi-year runs at making the playoffs. They have brought home the Grey Cup three times, the last time in 2007, when they defeated the Winnipeg Blue Bombers 23-19.
The Roughriders are also heroes off the field, with team members participating in a variety of programs, many directed at youth, dealing with literacy, the environment, poverty and other issues important to the local community.
For more information, see www.riderville.com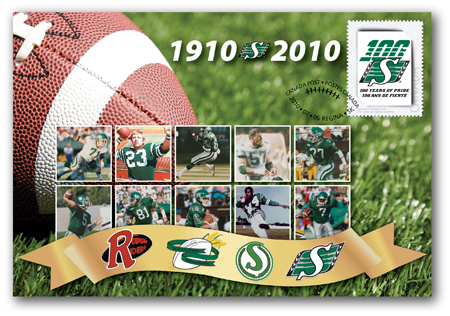 Commemorative Envelope
$3
Product #: 341820
Denomination: Domestic postage paid
Quantity: 20,000
Shop