St. Thomas University: 1910–2010 Commemorative Envelope
October 02, 2010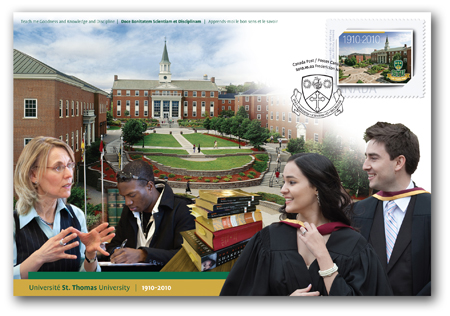 St. Thomas University in Chatham, New Brunswick, was founded by the Roman Catholic Church in 1910, as St. Thomas College, a high school and junior college for boys. It received its university charter on March 9, 1934, obtaining the power to grant degrees.
The small liberal arts institution was renamed St. Thomas University in 1960. On September 2, 1964, it moved to a new campus in Fredericton, launching a period of expansion that saw a significant growth in the number of students, faculty and facilities.
Today, St. Thomas University is recognized nation-wide for the expertise of its faculty, its tradition of academic excellence, and the outstanding beauty of its campus.
In the 2007 National Survey of Student Engagement, St. Thomas was rated one of the top five universities in Canada for its level of academic challenge and top ten in Canada for student faculty interaction, for a supportive campus environment and for overall education experience.
The design of the commemorative envelope features a collage of campus activities, as well as historic photos on the reverse. According to designer Karen Smith, "The concept behind the design was to showcase the uniquely picturesque present-day campus, while depicting the human element of a teaching professor in a classroom setting, through to the ultimate goal of graduation. Historic images of the original Chatham campus are depicted on the back of the envelope to pay tribute to the university's roots."
"We are absolutely thrilled that Canada Post selected St. Thomas to be part of their commemorative envelope series in 2010," said St. Thomas University President and Vice-Chancellor Dennis Cochrane.
He adds, "Our centenary year has been filled with academic, social and cultural celebrations, and the national reach of this commemorative envelope means that we can further share the pride we have for our university."
To learn more about the St. Thomas University, visit www.stu.ca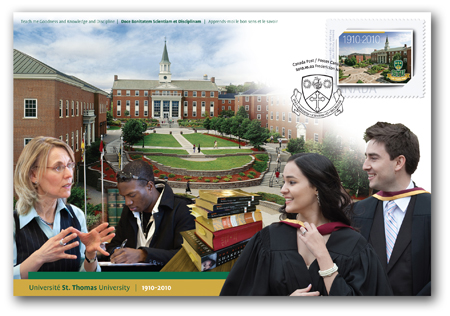 St. Thomas University: 1910-2010
$3
Product #: 341819
Denomination: Domestic postage paid
Design: Karen Smith Design
Quantity: 10,000
Shop