Madonna and Child
November 01, 2010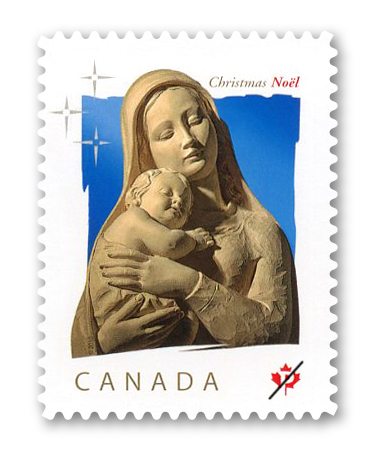 It's an iconic image that is well-chronicled in the Western art canon—and this November, just in time for the holiday season, the Madonna and Child will grace a PERMANENT™ domestic rate commemorative stamp.
The first images of the Madonna and Child are found in the catacombs of Rome, and the tradition of Madonna art flourished in Europe during the Renaissance. Inspired by this tradition, Canadian artists have produced spectacular representations of this sacred scene, many of which have been featured on Christmas stamps—traditional paintings (2006), wood icons (1988), and stained glass (1997), to name a few.
This stamp features a sculpture created by Italian-Canadian sculptor Antonio Caruso, whose artworks are found in private collections, museums, cathedrals and churches in North America and Europe. "We featured some of Caruso's miniature wood prototypes on our 2008 and 2009 Christmas stamps, and since his fascinating body of work extends well beyond that series, we wanted to showcase something else," says Alain Leduc, Manager of Stamp Design and Production at Canada Post. "We were drawn to this particular 2-foot-tall sculpture of the Madonna and Child."
Designer Joe Gault notes that Caruso's spectacular sculptures are well-suited to stamp design. "It's so much fun working with them because they're three-dimensional, providing the opportunity for us to position them in a variety of orientations according to the mood we're trying to create." The sculpture featured on this stamp was photographed by Toronto-based photographer Steve Frost.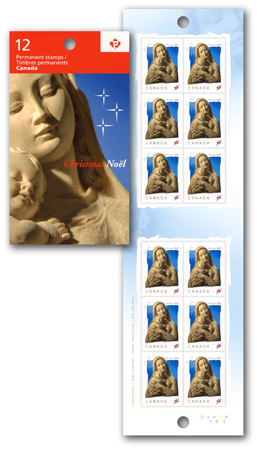 Booklet of 12 stamps
$6.84
Product #: 113779
Denomination: 1 x PERMANENT™ domestic stamp
Design: Joseph Gault
Dimensions: 24.75 mm x 32.25 mm
Printer: Lowe-Martin
Printing Process: Lithography in 7 colours plus varnish
Quantity: 8,500,000
Gum Type: Pressure sensitive
Perforations: Simulated perforation
Tagging: General, 4 sides
Paper Type: Tullis Russell
OFDC Cancellation Location: Marystown, Newfoundland and Labrador
Shop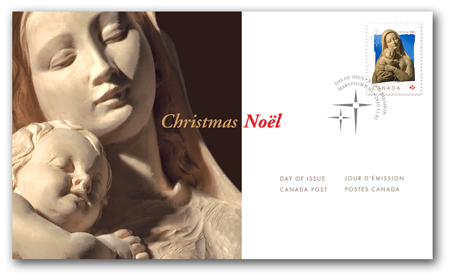 Product #: 413779131
Printer: Lowe-Martin
Quantity: 17,000
Tagging: General, 4 sides
OFDC Cancellation Location: Marystown, Newfoundland and Labrador
Shop