Carrie Best and Fergie Jenkins
February 01, 2011

Born in New Glasgow, Nova Scotia, on March 4, 1903, Carrie Best came into a world where the odds were stacked against a woman of colour. When she passed away in 2001, her work as a poet, author, journalist and fearlessly determined activist had done much to bring positive change to black Canadians.
In 1946, a black woman named Viola Desmond mistakenly sat in the "whites-only" section of a theatre, and was arrested, convicted and fined. Earlier that year, Best had established The Clarion, one of Nova Scotia's first newspapers for Black Canadians. Together the two women lobbied the provincial government to repeal its segregation laws, which it did in 1954.
In 1954, Best's radio program, The Quiet Corner, hit the airwaves. From the late 1960s to 1975, she wrote a column on human rights for the Pictou Advocate and spoke out against, among other things, substandard conditions on native reserves and discrimination against black property owners.
Carrie Best, a role model for generations of black Canadian women, was a Member of the Order of Canada and served on the Task Force on the Status of Woman. She was awarded the Queen Elizabeth Medal, several honourary doctorates, and many other awards.
Ferguson "Fergie" Arthur Jenkins was born on December 13, 1942, in Chatham, Ontario. He excelled at sports in school and played bantam baseball as a teenager. His pitching abilities were encouraged by Gene Dziadura, a shortstop in the Philadelphia Phillies minor league system who scouted for the team. Recognizing Fergie's natural abilities, the Phillies signed him in 1962.
Throughout his career, Fergie Jenkins would pitch for the Philadelphia Phillies (1965-66), the Chicago Cubs (1966-73, 1982-83), the Texas Rangers (1974-75, 1978-81) and the Boston Red Sox (1976-77). He also played basketball with the Harlem Globetrotters in the off season to stay in shape.
Fergie Jenkins is the only Canadian honoured in the National Baseball Hall of Fame in Cooperstown, NY (inducted July 21, 1991). He was inducted to the Canadian Baseball Hall of Fame in 1987. He holds the 12th highest strikeout total in history (3,192). Fergie earned 49 career shutouts, won the Cy Young award in 1971, and in 2000, he established his charitable foundation, The Fergie Jenkins Foundation. In 2004, he received an honourary doctorate from McMaster University in Hamilton, Ontario, and in 2007, Fergie was invested into the Order of Canada.
Designer Lara Minja, of Lime Design, in Victoria, BC, notes "The determination, strength, integrity and pride of Fergie Jenkins and Carrie Best are the attributes I aspired to bring to these stamps. The design balances a more recent depiction with an image from the past. A photograph of a more mature Jenkins is overlapped by an image of him on the pitcher's mound. Carrie Best smiles warmly in her portrait, sitting opposite an image of herself reading the newspaper she established. Both stamps incorporate Order of Canada icons, as well as the names and signatures of Jenkins and Best to personalize the design."
According to Stamp Design Manager, Liz Wong, "In previous Black History issues, due to the eras in which our subjects lived, usable photographs were simply not available. We were limited to an illustrative approach. Both Best and Jenkins were of a younger generation, so we could choose from a far richer range of imagery."
Major League Baseball trademarks and copyrights are used with permission of Major League Baseball Properties, Inc. Visit MLB.com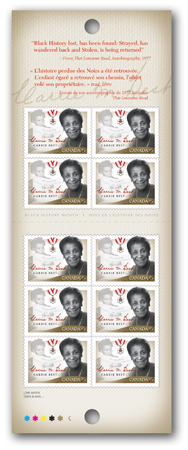 Booklet of 10 stamps
$5.90
Product #: 413786111
Denomination: 2 x 59¢
Design: Lara Minja (Lime Design Inc.)
Dimensions: 32 mm x 24 mm (horizontal)
Printer: Lowe-Martin
Printing Process: Lithography in 7 colours plus varnish
Quantity: 1,700,000
Gum Type: Pressure sensitive
Perforations: Simulated perforation
Tagging: General, 4 sides
Photography: Carrie Best – Communications Nova Scotia / Shirley Robb; That Lonesome Road, The Clarion Publishing Company Ltd., 1977
Paper Type: Tullis Russell
OFDC Cancellation Location: New Glasgow, Nova Scotia
Shop

Booklet of 10 stamps
$5.90
Product #: 413785111
Quantity: 4,000,000
Photography: Fergie Jenkins – John Iacono / Sports Illustrated / Getty Images; John Oddi / Fergie Jenkins Foundation
Shop