Sunflowers
March 03, 2011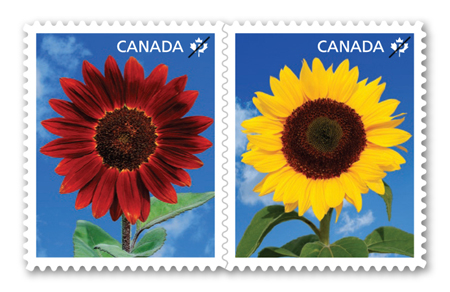 It's hard not to look at the deep warm hues of the sunflower, with its wide open face and not smile. There's something inherently happy about its blooms.
Sunflowers (Helianthus annuus) were a common crop among Aboriginals throughout North America, so much so that some archaeologists have suggested sunflowers may have been domesticated before corn. The seeds were ground into flour for cakes, mush or bread and the oil was used for cooking.
While sunflowers originated in North America, thanks to exploration and colonization, they made a rather circuitous route to hybridization, via Russia and Eastern Europe. However, it was Canada that established the first official government sunflower breeding program in 1930, drawing the expertise of Mennonite farmers whose families had originated in Russia. The demand for sunflower oil grew and by 1946, these farmers built a small crushing plant. In 1964, the Canadian government licensed a Russian cultivar called Peredovik.
There's a special story behind the sunflowers that appear on this se-tenant stamp issue. After seeking out several varieties that would appear most attractive on stamps, members of Canada Post's Stamp Services staff met with horticultural experts at Agriculture and Agri-Food Canada's Central Experimental Farm, in Ottawa. After choosing varieties sure to flourish under local growing conditions, AAFC's Pierre Huppé and Sharon Saunders agreed to provide a plot and oversee the planting and tending of several types of sunflowers, which would eventually be photographed for the stamps, official first day cover, souvenir sheet and other items in the issue. The winning varieties were Sunbright and Prado Red.
Isabelle Toussaint, photographer and designer for the long-running series notes, "Both as a single flower and as part of entire field of blooms, there's something so compelling about the tall sunflower and how it stretches and grows directly facing the sun. How it's pulled by the light. I wanted to convey the majesty of this flower, to highlight its size and height, to focus all attention on it, a goal that was achieved by simply letting it stand alone against an immense blue sky."
"This was a first," notes Stamp Design Manager Danielle Trottier. "Once the flower choice has been approved by the Stamp Advisory Committee, the usual process for obtaining imagery for our popular flower stamps is to use "found" photos to determine what varieties and colours we like paired together, then seek help from agricultural organizations, horticultural schools, gardening clubs and associations to locate the right plant. Then we'd be on call for photography, waiting for that moment when the blooms are at their peak. This time, we knew exactly the kind of flowers we'd end up with because they were grown specifically for the stamp. That made it easier to plan out the entire issue and know exactly how the two varieties would appear. We had the opportunity to watch the flowers grow—and watch local visitors to the field appreciate them. This is another first, and it's a story I think collectors will appreciate."

Booklet of 10 stamps
$5.90
Product #: 413789111
Denomination: 2 x PERMANENT™ domestic stamp
Design: Isabelle Toussaint Design graphique
Dimensions: 26 mm x 32 mm (vertical)
Printer: Lowe-Martin
Printing Process: Lithography in 6 colours
Quantity: 12,000,000
Gum Type: Pressure sensitive
Perforations: Simulated Perforation
Tagging: General, 4 sides
Paper Type: Tullis Russell
OFDC Cancellation Location: Ottawa, Ontario
Shop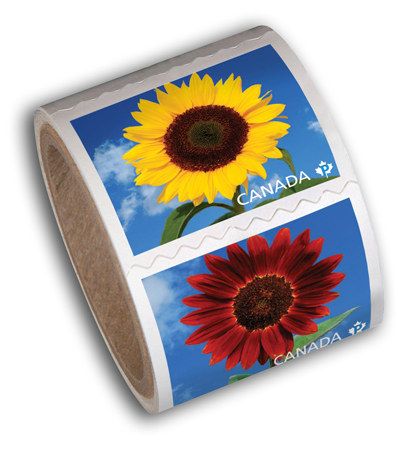 Product #: 101788
Dimensions: 24 mm x 20 mm (horizontal)
Printing Process: Lithography in 5 colours
Quantity: 40,000
Gum Type: Pressure sensitive
Perforations: Simulated Perforation
Shop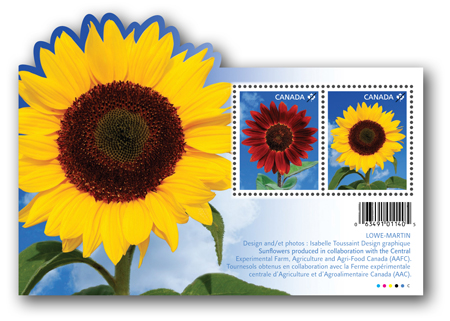 Souvenir sheet of 2 stamps
$1.18
Product #: 403789145
Dimensions: 120 mm x 84 mm (horizontal)
Printing Process: Lithography in 6 colours
Quantity: 200,000
Gum Type: P.V.A.
Perforations: 13+
Shop