Methods of Mail Delivery
May 13, 2011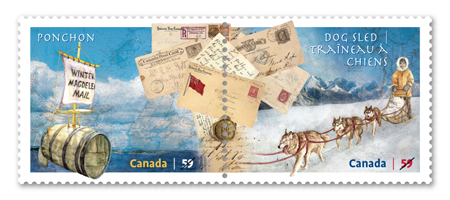 Given Canada's sometimes daunting landscapes and often extreme weather, delivering the mail has, at times, required a little ingenuity. This se-tenant stamp issue, issued in time for the 2011 Royal Philatelic Show, depicts two of the more unusual methods of mail delivery.
In the winter of 1910, a snapped telegraphic cable severed communications between the people the Magdalen Islands north of Cape Breton and the mainland. Faced with isolation, the leaders of the community rigged a ponchon—a large barrel used for transporting molasses—with a rudder and sail, marked with the inscription "WINTER MAGDELEN MAIL."
After testing to ensure their jerry-rigged vessel was watertight, they piled in steel boxes filled with letters, including one explaining the situation and imploring the finder to mail the letters. Launched on February 2nd, the ponchon was found at Port Hastings, Nova Scotia, more than a week later, by Murdoch McIssac—who forwarded the letters as requested.
Prior to the air mail advances of World War I, the only reliable method of mail delivery in northern Canada in winter was by dog team, a practice that persisted in more remote regions until the early 1960s. Dog breeds and sledding equipment varied, depending on the terrain, climate and era. Today, every January, the Gold Rush Trail Dog Sled Mail Run allows mailers to have envelopes carried by dog team and delivered via Canada Post. The artwork for this stamp was unveiled earlier at this year's edition, held January 21-23, 2011.
According to Stamp Design Manager Liz Wong, "these stamps honour Canada Post's history and depict the role of mail delivery in the development of our nation."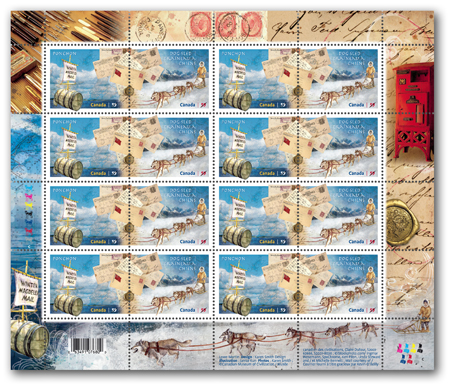 Product #: 403791107
Denomination: 2 x 59¢
Design: Karen Smith Design
Dimensions: 40 mm x 32 mm (horizontal)
Printer: Lowe-Martin
Printing Process: Lithography in 7 colours plus varnish
Quantity: 1,500,000
Gum Type: P.V.A.
Illustration: Karen Smith Design
Perforations: 13+
Tagging: General, 3 sides
Photography: Karen Smith Design; © Canadian Museum of Civilization; Claire Dufour, S2001-62666, S2001-8020; © iStockphoto.com / Ingmar Wesemann, SpxChrome, Ken Pilon, Linda Steward and Michelle Bennett; Mail courtesy of Kevin O'Reilly
Paper Type: Tullis Russell
OFDC Cancellation Location: Havre-Aubert, Quebec
Shop