Parks Canada, 100th Anniversary
May 19, 2011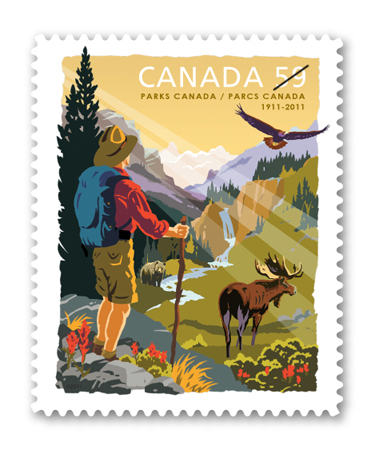 In Canada, we tend to be a little spoiled when it comes to beautiful lakes, majestic mountains and well-preserved historic sites—we've got such a wealth of them. Such a bounty of natural beauty and cultural riches should never be taken for granted, but even so, it is comforting to know that, thanks to the work of Parks Canada, we can rest assured that many of our most precious natural and historic treasures will be cared for in perpetuity.
While 2010 marked the 125th birthday of Canada's first national park, Banff, 2011 is the centennial of Parks Canada, the world's first national parks service. Since its inception in 1911, under the name Dominion Parks Branch, the service has been a world leader in the stewardship of national historic sites as well.
Today Parks Canada is responsible for a network of 42 national parks, 167 national historic sites and four national marine conservation areas. According to Andrew Campbell, Director General of External Relations and Visitor Experience at Parks Canada, "these places provide countless opportunities for inspiration and unforgettable experiences that connect Canadians with both the riches of their shared history and nature at its very best."
In addition to conserving places of natural beauty and historic significance for Canadians and inter-national visitors to enjoy, Parks Canada's work aims to pass on these places, unimpaired, from generation to generation. "Canada sets aside these areas not just for our own enjoyment and delight as visitors, but also protect, and when necessary, restore them to help keep an ecological balance for all living things," adds Campbell.
Says stamp designer Tim Nokes, of Tim Nokes Design, "Receiving the commission to produce the commemorative stamp for Parks Canada's 100th anniversary was especially meaningful to me as I was raised in Banff. But it was a challenging design task due to the small framework of a stamp and the immense diversity of Parks Canada's landscapes. Since the first national park was in fact Banff, along with the adjoining mountain parks, I felt that this was an appropriate place to begin. However, I did not want to focus on a singular iconic Banff image. So I created a montage of images within the stamp that are inspired by all the mountain parks."
Since most Canadians relate to their national parks and historic sites in terms of their memories of vacation spent walking, camping, exploring and spending time appreciating nature, the design chosen for the Parks Canada 100th anniversary stamp offers a retro approach. "The style of illustration was inspired by the CPR travel posters of the 1920s and 30s, with their bold vibrant colors and strong compositional elements. I added a rough-hewn border edge to project a sense of freedom; the importance of the park extends beyond the physical boundary…also, it was important to me that parks be seen as a place of self-discovery, education and powerful inspiration from nature," concluded Nokes.
Booklet of 10 stamps
$5.90
Product #: 413792111
Denomination: 1 x 59¢
Design: Tim Nokes
Dimensions: 32.25 mm x 39.75 mm (vertical)
Printer: Canadian Bank Note
Printing Process: Lithography in 5 colours
Quantity: 4,000,000
Gum Type: Pressure sensitive
Illustration: Tim Nokes
Perforations: Simulated perforation
Tagging: General, 4 sides
Paper Type: Tullis Russell
OFDC Cancellation Location: Banff, Alberta
Shop