Christmas – Stained Glass
November 01, 2011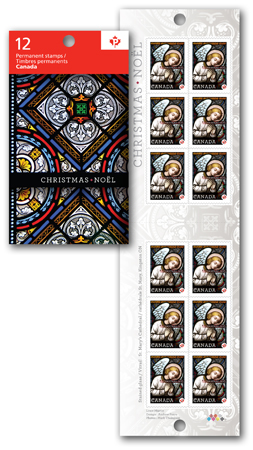 The art of creating coloured glass is ancient, and was originally practiced by both the Egyptians and the Romans. Stained glass, or sometimes thin slices of alabaster set in wooden frames to create a similar effect, has been used in churches and other stately buildings the world over since the Middle Ages. At a time when much of Europe was illiterate, churches in particular took advantage of the use of stained glass—frequently depicting vivid and expressive scenes from the Bible—to visually reinforce their teachings. An art-form in itself, stained glass is often referred to as 'pictorial art' or described as 'illuminated wall decorations.'
Three of this year's Christmas commemorative stamps showcase scenes from the magnificent stained-glass windows of the Cathedral of Saint Mary of the Immaculate Conception in Kingston, ON, which was built nearly a century and a half ago. The windows were originally imported from England. Over the years, several installation projects, additions and changes have been undertaken. This work includes a complete restoration of the windows, which began in 1993, done on site by glass and installation artist Mark Thompson, using much the same methods employed for the past thousand years.
The scenes for the stamps were chosen to depict the story of Jesus' birth: the domestic rate, PERMANENT™ stamp shows the Angel appearing to Joseph, the U.S. rate ($1.03) stamp shows the Nativity scene, and the international rate ($1.75) the Epiphany. The background of the souvenir sheet is an enlargement of the top border of each stamp to showcase the elaborate design. A gutter product of the U.S. and international booklets is also available.
"The challenge in designing these stamps was to capture the amazing detail and luminosity of these windows in this tiny medium," says designer Andrew Perro. "Rather than focus on an entire window, some 40 feet in the sky, I picked a highlight within it for simplicity and clarity. I used different elements from the window border network to create an original scene for each stamp, and to give the set a cohesive look. The booklet cover and Official First Day cover show the extraordinary ornamental and intricate architecture of this beautiful cathedral."
A passionate pursuit
Stamp designer Andrew Perro credits Mark Thompson, as the continuing caretaker of the windows, with providing him unbelievable access through some of the restoration equipment to get up high in the cathedral to photograph the windows. Most of the original photos featured on the stamps were also shot by Thompson.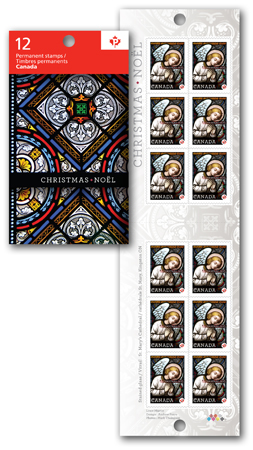 Booklet of 12 stamps
$7.08
Product #: 113803
Denomination: 1 x PERMANENT™ domestic stamp
Design: Andrew Perro
Dimensions: 24 mm x 32 mm (vertical)
Printer: Lowe-Martin
Printing Process: Lithography in 7 colours plus spot varnish
Quantity: 13,000,000
Gum Type: Pressure-sensitive
Illustration: Andrew Perro
Perforations: Simulated perforation
Tagging: General, 4 sides
Photography: Mark Thompson
Paper Type: Tullis Russell
OFDC Cancellation Location: Kingston, Ontario
Shop