John Ware and Viola Desmond
February 01, 2012
John Ware was a cowboy who helped establish the ranching industry in the part of the prairies that would eventually become Alberta.
Born into slavery in South Carolina, Ware travelled to Texas after the Civil War, where he became an experienced cowhand. In 1882, strong and industrious, Ware drove 3,000 cattle across the border for the North West Cattle company, and then settled in Canada. He lived and worked first in the Calgary area, then established his own ranch in the Foothills in 1890. He would later move the ranch and his family to a new spot near Brooks, Alberta, in 1900.
With his great stature, abilities and sense of adventure, Ware had all the makings of a folk hero. Skilled with the lariat, he pioneered steer-wrestling and won his first competition at the Calgary Summer Fair of 1893, setting a precedent for what would become a highlight of the Calgary Stampede. Ironically, he died in 1905, when his horse tripped and crushed him.
East coast journalist and activist Carrie Best was featured on one of Canada Post's Black History month 2011 stamps. Best had worked with Viola Desmond to lobby the provincial government to repeal its segregation laws, which it did in 1954.
Desmond was arrested in Nova Scotia in 1945, for sitting in the "whites-only" section of New Glasgow's Roseland theatre. After being dragged from the theatre, sitting up all night in jail still wearing her white gloves, Desmond was tried without counsel and convicted of defrauding the province of the additional one-cent tax for seats in the whites-only section, and fined $20. She paid the fine but went on to fight the charge in higher levels of court. Subsequent trials focused on tax-evasion, not that Ms. Desmond has been a victim of racism.
All efforts to have the conviction overturned were unsuccessful, and her lawyer eventually returned her fee, which she used to fund the activities of the Nova Scotia Association for the Advancement of Coloured People (NSAACP).
Last year, the Lieutenant Governor of Nova Scotia invoked the Royal Prerogative and granted Desmond a posthumous pardon, the first such to be granted in Canada, and the government of Nova Scotia formally apologized.
"I used a collage of elements in the stamps to give dimension to the stories of both Desmond and Ware," says Lara Minja of Vancouver's Lime Design, who has designed the three previous issues in the Black History series. "Strong and flattering portraits of each figure provide a central focus, and silhouettes of significant places appear at the bottom. Both stamps are intended to have a historical look and feel, as well as a richness and human warmth."

Booklet of 10 stamps
$6.10
Product #: 413826111
Denomination: 2 x PERMANENT™ domestic rate
Design: Lara Minja (Lime Design Inc.)
Dimensions: 32 mm x 40 mm (vertical)
Printer: Lowe-Martin
Printing Process: Lithography in 8 colours plus varnish
Quantity: 4,000,000
Gum Type: Pressure sensitive
Perforations: Simulated perforation
Tagging: General, 4 sides
Photography: John Ware: Glenbow Archives; iStockphoto
Paper Type: Tullis Russell
OFDC Cancellation Location: Calgary, Alberta
Shop

Booklet of 10 stamps
$6.10
Product #: 413827111
Denomination: 2 x PERMANENT™ domestic rate
Design: Lara Minja (Lime Design Inc.)
Dimensions: 32 mm x 40 mm (vertical)
Printer: Lowe-Martin
Printing Process: Lithography in 8 colours plus varnish
Quantity: 2,650,000
Gum Type: Pressure sensitive
Perforations: Simulated perforation
Tagging: General, 4 sides
Photography: Viola Desmond: Davis Family; Government of Nova Scotia; Nova Scotia Museum of Industry, Stellarton, Nova Scotia; iStockphoto
Paper Type: Tullis Russell
OFDC Cancellation Location: Halifax, Nova Scotia
Shop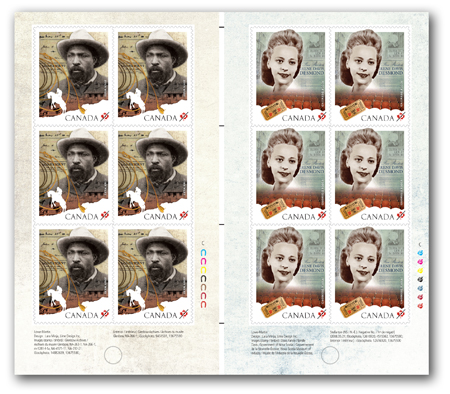 Product #: 403827108
Denomination: 2 x PERMANENT™ domestic rate
Design: Lara Minja (Lime Design Inc.)
Printer: Lowe-Martin
Printing Process: Lithography in 8 colours plus varnish
Quantity: 4,000
Gum Type: Pressure sensitive
Perforations: Simulated perforation
Tagging: General, 4 sides
Paper Type: Tullis Russell
Shop