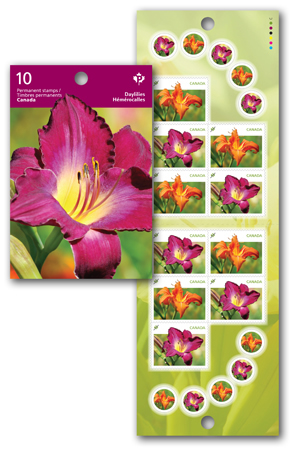 Wild yellow or orange daylilies growing in ditches and along fences are a familiar sight to families heading off to cottage country. Since the early 1930s, the daylily has been hybridized by gardening enthusiasts and professional horti-culturalists, and this beautiful, hardy perennial can now be found in a rainbow of colours and an array of shapes across the country.
Two exquisite daylilies grace the seventh issue in Canada Post's beloved flower series. Both stamps are found in the booklets of 10, five of each design, and on the souvenir sheet. These floral beauties remind us that spring—and cottage season—is right around the corner. Available in coils of 50 stamps as well, these lovely stamps are sure to be popular with couples sending out wedding invitations.
The Daylily (Hemerocallis) was long placed in the Lily family (Liliaceae), but is now considered to belong in the plant family Hemerocallidaceae. This term, from the Greek words meaning "beauty" and "day," alludes to the fact that each flower lasts for just one day. Since there are many flower buds on each flower stalk and many stalks in each cluster, the overall flowering period is usually several weeks long. The flowers of most species open at sunrise and wither at sunset, often replaced by another on the same stalk the next day. Although not commonly used for arrangements, daylilies make good cut flowers, as new blossoms continue to open over several days.
Originally, daylilies could be found only in yellow, orange, and reddish-brown. Today, colours range from near-white, to yellow, orange, pink, red, purple, blue and more. While the roadside yellow or orange daylilies—known to hybridizers as Hemerocallis fulva (or Hemerocallis fulva Europa)—are forms of the cultivated types that 'escaped' and now grow wild, all modern daylilies have evolved through a complicated history of hybridization.
The photos for the Daylilies stamps were taken at Ottawa's Experimental Farm, where all the Canadian hybrids grow together in one area. "I always try to get early morning and late afternoon shots, when the lighting allows for lots of contrast and detail," says Isabelle Toussaint, photographer and designer for the long-running series. "Although the sun was shining for both sessions, the light was completely different for each, and I was able to get many great shots."
"We wanted to be sure to show a daylily that Canadians would recognize, so we decided to use the common orange ones," says Danielle Trottier, Stamp Design manager. "The purple daylily, which has been identified as "Louis Lorrain," was chosen not only because it was a bit more exotic but also contrasted so beautifully with the orange." The third variety, shown on the souvenir sheet is known as the "Jeff Holden."
The result is a stunning combination that will captivate and charm collectors, gardeners and flower enthusiasts alike.

Booklet of 10 stamps
$6.10
Product #: 413829111
Denomination: 2 x PERMANENT™ domestic rate
Design: Isabelle Toussaint Design graphique
Dimensions: 26 mm x 32 mm (vertical)
Printer: Lowe-Martin
Printing Process: Lithography in 6 colours
Quantity: 14,000,000
Gum Type: Pressure sensitive
Perforations: Simulated Perforation
Tagging: General, 4 sides
Paper Type: Tullis Russell
OFDC Cancellation Location: Flowers Cove, Newfoundland and Labrador
Shop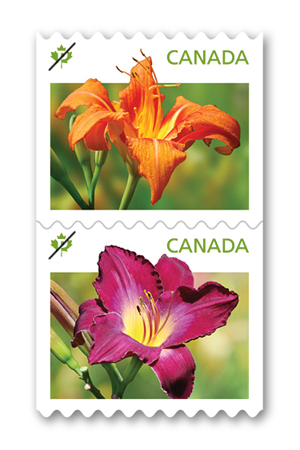 Product #: 101829
Denomination: 2 x PERMANENT™ domestic rate
Design: Isabelle Toussaint Design graphique
Dimensions: 24 mm x 20 mm (horizontal)
Printer: Lowe-Martin
Quantity: 120,000 coils
Gum Type: Pressure sensitive
Perforations: Simulated Perforation
Tagging: General, 4 sides
Paper Type: Tullis Russell
OFDC Cancellation Location: Flowers Cove, Newfoundland and Labrador
Shop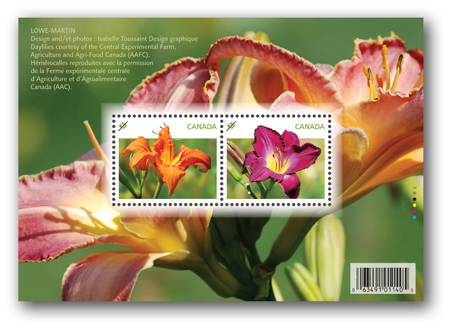 Souvenir sheet of 2 stamps
Product #: 403829145
Denomination: 2 x PERMANENT™ domestic rate
Design: Isabelle Toussaint Design graphique
Dimensions: 120 mm x 84 mm (horizontal)
Printer: Lowe-Martin
Printing Process: Lithography in 6 colours
Quantity: 210,000 SS
Gum Type: P.V.A.
Perforations: 13+
Tagging: General, 4 sides
Paper Type: Tullis Russell
OFDC Cancellation Location: Flowers Cove, Newfoundland and Labrador
Shop