Children's Literature: Franklin the Turtle
May 11, 2012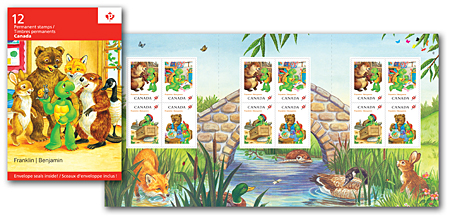 Canada has a stellar history of being home to some of the best children's and young adult writers in the world. From early offerings like Lucy Maud Montgomery's Emily of New Moon series to the work of contemporary authors Robert Munsch or Roch Carrier, we have a rich tradition of storytelling, a tradition that will be celebrated in a new occasional series featuring the wonderfully imaginative characters that populate Canadian "kids' lit." The first stamp in the series is dedicated to that warm and wonderful little reptile who gently encourages children to come "out of their shells"—Franklin the Turtle.
Born in the imagination of author Paulette Bourgeois and illustrator Brenda Clark, and published by Canadian publisher Kids Can Press, Franklin in the Dark debuted in 1986. Since that time, Franklin—known as Benjamin to his French-Canadian readers—and his friends have entertained and inspired children in 100 different tales. More than 65 million books have been sold in 30 languages. Franklin is one of the best known characters in contemporary children's literature and has inspired television shows as well as other media and products.
The issue will include four stamps in a booklet that includes our first augmented reality maze game on the back cover, an OFDC, a souvenir sheet, postcards, and, also for the first time, a package of children's party invitations featuring the characters.
Upon learning that Franklin would kick off this stamp series, Brenda Clark says, "I was absolutely thrilled that Franklin was chosen… it's a wonderful way to recognize his place in Canadian children's literature." Paulette Bourgeois adds, "I was surprised and delighted. My late father was an avid stamp collector, so this would have been very special for him."
Illustrator Brenda Clark served as the go-to person for the images that appear on the stamp and she credits the design team at q30 for making the process easy. "They did an amazing job of choosing the illustrations from hundreds of possible images and then arranging them cleverly for the stamps and packaging."
The stamp issue was designed by q30's Karen Henricks and art-directed by Peter Scott. Scott says of the experience, "We were very excited when we were approached to design the Franklin stamp series. I had read many of the stories to my two children when they were young, so I was very familiar with the characters and illustration style. And it was great to meet the illustrator, Brenda Clark, and to get her feedback on our creative designs."
Bourgeois and Clark agree that the stamp issue is an excellent way to introduce Franklin to new readers, stir up nostalgia in older fans and shed light on Franklin's Canadian roots. Bourgeois says "I think a lot of people are unaware that Franklin is a Canadian creation from the original stories, to the illustrations, to the books and the television series. It's been wonderful to be part of such a Canadian success story and celebrating this in such a public and national way is important. Thanks to Canada Post for recognizing that children's literature is such a valuable part of our culture and our national story."
Clark adds, "With Franklin, we were pioneers of sorts in Canada; the first to have a picture book developed into a large series, published globally and expanded into TV, DVDs and e-books. Although he wasn't there at the very beginning of Canada's accomplishments in children's literature, giving Franklin the lead into this stamp series is in keeping with the many `firsts' he has already attained."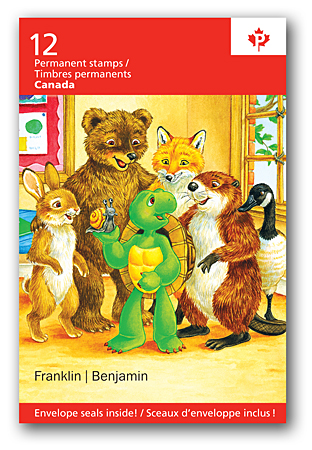 Booklet of 12 stamps
$7.32
Product #: 413828111
Denomination: 4 x PERMANENT™ domestic rate
Design: q30 design inc.
Dimensions: 24.75 mm x 32.25 mm (vertical)
Printer: Lowe-Martin
Printing Process: Lithography in 7 colours
Quantity: 7,200,000
Gum Type: Pressure sensitive
Illustration: Brenda Clark, Franklin™ is a trademark of Kids Can Press Ltd., © Paulette Bourgeois and Brenda Clark, Illustrations courtesy of the Toronto Public Library, Osborne Collection of Early Children's Books
Perforations: Simulated perforation
Tagging: General, 4 sides
Paper Type: Tullis Russell
OFDC Cancellation Location: Toronto, Ontario
Shop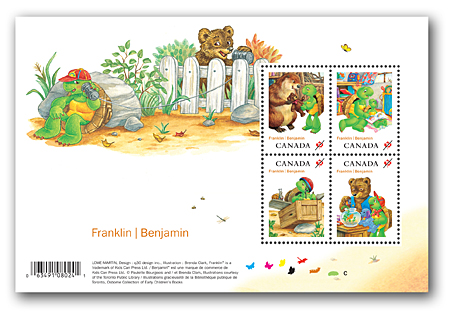 Souvenir sheet of 4 stamps
$2.44
Product #: 403828145
Denomination: 4 x PERMANENT™ domestic rate
Design: q30 design inc.
Dimensions: 150 mm x 100 mm (horizontal)
Printer: Lowe-Martin
Printing Process: Lithography in 7 colours
Quantity: 300,000 SS
Gum Type: P.V.A.
Illustration: Brenda Clark, Franklin™ is a trademark of Kids Can Press Ltd., © Paulette Bourgeois and Brenda Clark, Illustrations courtesy of the Toronto Public Library, Osborne Collection of Early Children's Books
Perforations: 13+
Tagging: General, 4 sides
Paper Type: Tullis Russell
OFDC Cancellation Location: Toronto, Ontario
Shop