Difference Makers
May 22, 2012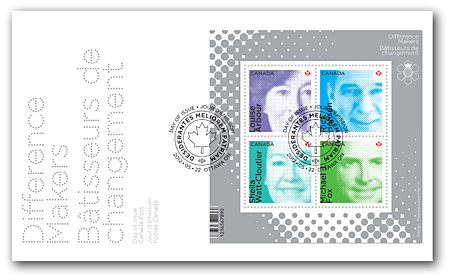 Canada Post honours four outstanding and well-known Canadians in this new stamp series, featuring images of Rick Hansen, Michael J. Fox, Sheila Watt-Cloutier and Louise Arbour.
According to stamp design manager Alain Leduc, the unusual approach to portraiture has deeper meanings. The stamps, designed by Montreal's Paprika Design, show intimate close-ups of each of the four Difference Makers, created with a strategically-placed series of small dots. This unique form of digital pointillism carries with it a subtle symbolism—the dots coming together to create a view of the whole in the same way that each of these individuals employs a range of experience, knowledge, skills and talents to get the results they seek.
"Colour too, is an important factor in this issue," notes Leduc. "Each one was chosen to differentiate the different fields in which these people are recognized. The colours aren't tied to any kind of specific symbolism, but we wanted to make sure that each Difference Maker was recognized as an individual personality."
Each of the stamps will be sold in booklets of 10. A souvenir sheet with all four stamps is also available.
This edition of the Difference Makers' series includes the following highly-regarded Canadian humanitarians and activists:
Rick Hansen
Young Rick Hansen dreamed of representing Canada at the Olympics someday. But at age 15, he lost the use of his legs in an automobile accident. His positive attitude allowed him to stay involved in sports and he became the first person with a disability to graduate with a degree in Physical Education. He was inspired by Terry Fox, and through his own epic journey on the Man In Motion World Tour years later, he kept a small statue of Fox close, as encouragement. Later, he established the Rick Hansen Foundation, continuing his quest for a cure for spinal cord injury, and for an accessible and inclusive society.
Michael J. Fox
Michael J. Fox's drama teacher urged him to audition for acting parts. He appeared in numerous TV shows, theatre plays and movies, before getting his big break in 1982, in the hit TV show Family Ties. Fox has also appeared in feature films, including the blockbuster Back to the Future trilogy. In 1990, he was diagnosed with young onset Parkinson's disease, but waited until 1998, while starring in the hit TV series Spin City, to disclose his condition to the public. Committed to campaigning for increased Parkinson's research, he established the non-profit Michael J. Fox Foundation for Parkinson's Research and remains an outspoken supporter of stem cell research.
Sheila Watt-Cloutier
Champion of Aboriginal and human rights, and a climate-change advocate, Sheila Watt-Cloutier has received the Aboriginal Achievement Award, the UN's Champion of the Earth Award and the Norwegian Sophie Prize; she is also a Nobel Peace Prize nominee and Officer of the Order of Canada. Born in Kuujjuaq in northern Quebec, she spent her first ten years leading a traditional Inuit life. Watt-Cloutier worked as an interpreter at the Ungava Hospital in Nunavik, and a student counselor in Kuujjuaq and Montréal. In 1995, she was named the Canadian president of the Inuit Circumpolar Council, a position she held until 2002, when she was named its International Chair.
Louise Arbour
Following impressive work in the Ontario legal community, in 1996, Montreal-born Louise Arbour became prosecutor of war crimes at the International Criminal Tribunal for Rwanda and for the Former Yugoslavia. In 1999, she was appointed to the Canadian Supreme Court. She later served as UN High Commissioner for Human Rights. Arbour is currently President and CEO of the International Crisis Group (ICG). A Companion of the Order of Canada, an Honorary Fellow of the Royal College of Physicians and Surgeons of Canada and a grande officière de l'Ordre national du Québec, she has received countless international awards as well as honourary doctorates from 30 universities.
Booklet of 10 stamps
$6.10
Product #: 413840111
Denomination: 4 x PERMANENT™ domestic rate
Design: Paprika
Dimensions: 32 mm x 32 mm (square)
Printer: Lowe-Martin
Printing Process: Lithography in 4 colours
Quantity: 4,000,000
Gum Type: Pressure sensitive
Perforations: Simulated perforation
Tagging: General, 4 sides
Photography: The Rick Hansen Foundation; The Michael J. Fox Foundation for Parkinson's Research: Kevin Winter | Getty Images; Sheila Watt-Cloutier: Peter Cashin Studios; Louise Arbour: Grace Gladhill
Paper Type: Tullis Russell
OFDC Cancellation Location: Ottawa, Ontario
Shop