Happy Anniversary
June 08, 2012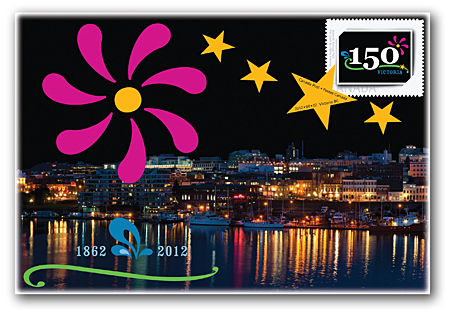 We're celebrating milestones on both coasts with these stunning commemorative envelopes.
The town of Torbay – 250th anniversary
Although the history of Torbay, N.L. dates back to the 1500s, the town was officially established soon after Colonel William Amherst and his troops landed in 1762, on their way to recapturing the capital city of St. John's. Award-winning photographer John Sylvester has captured the beauty of Torbay's scenic coastline with the vivid photo on the envelope.
City of Victoria – 150th anniversary
Coast Salish First Peoples were the earliest settlers to make their home where Victoria, B.C. now stands. "Fort Victoria" was built by the Hudson's Bay Company in 1843, and officially incorporated as a city 150 years later on August 2, 1862. This commemorative envelope captures the beauty of Victoria at night and is a fitting tribute to the 150th birthday of this beautiful city.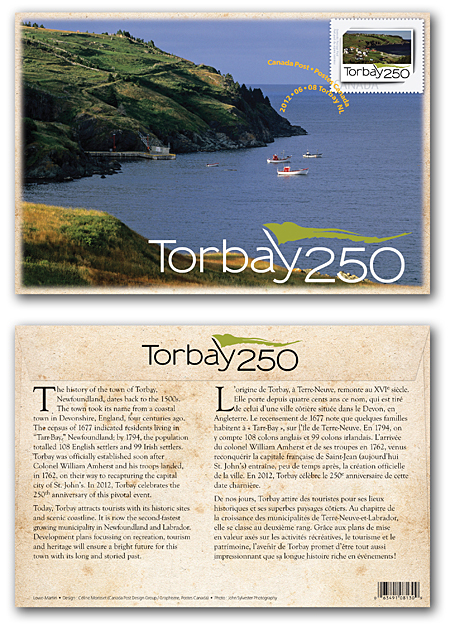 Town of Torbay – 250th anniversary
$3
Product #: 341867
Denomination: Domestic postage paid
Design: Canada Post Graphic Design Group
Quantity: 10,000
Shop
City of Victoria – 150th anniversary
$3
Product #: 341868
Denomination: Domestic postage paid
Design: Canada Post Graphic Design Group
Quantity: 10,000
Shop