Tommy Douglas: The Birth of Medicare
June 29, 2012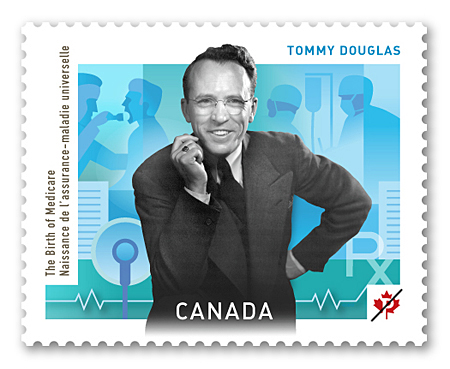 In 2004, CBC viewers chose Tommy Douglas as "The Greatest Canadian," mainly due to his leadership role in our public health care system. What many may not know is his role in building a national political party, his humanizing influence on the country's labour laws or his dedication to universal medical care stemmed from a personal tragedy.
Born on October 20, 1904, in Falkirk, Scotland, Douglas came to Canada with his family in 1910, and settled in Winnipeg. Growing up poor, he developed an infection that would have cost him his leg had his father not met a generous surgeon who agreed to treat Tommy for free, provided his students could observe. Through this experience, he realized the need for all to have access to medical care.
By 1934, as a Baptist preacher influenced by the suffering of his congregation in Weyburn, Saskatchewan, during the Great Depression, Douglas made an unsuccessful run at the provincial candidacy for the Farmer-Labour Party. After becoming one of the first Cooperative Commonwealth Federation Members of Parliament, he resigned his federal seat to lead the Saskatchewan CCF and in 1944, became the Premier of the first democratic socialist government in North America, going on to lead the New Democratic Party in 1960.
About the stamp, issued on the 50th anniversary of the passing of Saskatchewan's 1962 Medical Care Insurance Act, designer Derwyn Goodall notes, "We are very fortunate to live in Canada and we have Tommy Douglas to thank for his contribution to universal health care in our great country. In terms of the stamp design, I was striving to honour Yousuf Karsh's wonderfully classic portrait while providing a modern backdrop showcasing the complexity and humane aspect of Canada's medical profession."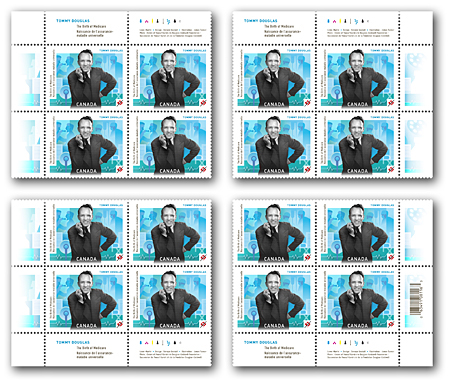 Product #: 403846107
Denomination: 1 x PERMANENT™ domestic rate
Design: Derwyn Goodall
Dimensions: 40 mm x 32 mm (horizontal)
Printer: Lowe-Martin
Printing Process: Lithography in 7 colours plus varnish
Quantity: 1,600,000
Gum Type: P.V.A.
Illustration: Louis Fishauf/Charles Vinh
Perforations: 13+
Tagging: General, 4 sides
Photography: Estate of Yousuf Karsh c/o The Douglas-Coldwell Foundation
Paper Type: Tullis Russell
OFDC Cancellation Location: Toronto, Ontario
Shop