Signs of the Zodiac: Leo, Virgo, Libra and Scorpio
July 23, 2012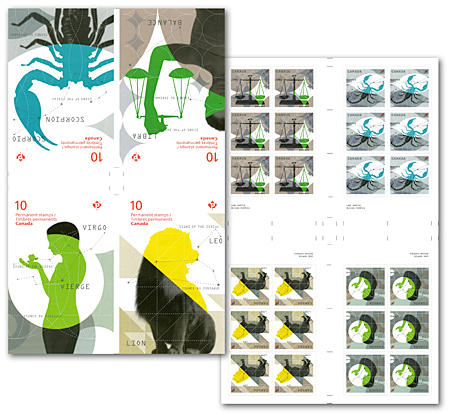 This summer, Canada Post continues its three-year Signs of the Zodiac series with stamps and stamp products directed at Leos, Virgos, Librans and Scorpios. Like the initial four stamps issued in 2011 (Aries, Taurus, Gemini and Cancer), again this year the stamps were designed by Paprika in Montreal. Created with the same kind of highly-layered graphics that incorporate symbolic imagery, astrological mapping and the colours traditionally associated with each sign, these four issues are not only interesting to collectors, but invite those born under the signs of Leo, Virgo, Libra and Scorpio to personalize their mail.
Leo (July 23 to August 22)
Leo's strong, extroverted nature can be perceived as pompous or overbearing if taken to the extreme. Just as the lion is the king of beasts, the monarch-like essence of Leos make ambition, courage, independence and wilfulness part of their nature. Their self-confidence is magnetic and their lack of complication generally makes them easy to get along with—as long as they get what they want. Leos are idealistic, intelligent and disciplined, but even in the face of hard facts, they can be obstinate in adhering to out-of-date beliefs.
Virgo (August 23 to September 22)
The only sign represented by a female figure, Virgo is the overachiever of the zodiac. A love of precision, refinement, cleanliness, hygiene and good order can make observant Virgos seem critical of others. However, they will never be harder on anyone than they are on themselves. While some Virgos may appear cold, this outward lack of feeling can conceal strong emotions, often hidden due to a lack of trust. Virgos see shortcomings in both themselves and others and this tendency, mixed with their natural practicality, can make them come off as harsh. They are well-spoken, wise and witty, with the ability to understand and tolerate the problems of others with far more leniency than they can their own.
Libra (September 23 to October 22)
Libra is the only inanimate sign of the zodiac, neither creature nor human, but a scale. Modern astrologers tell us it's a highly desirable sign, coming at the harvest, a time that would have been considered the high point of the year for our ancient ancestors. Born in this season of mellowness and plenty, Librans tend to be the most civilized of the 12 zodiacal signs and are often attractive, elegant, charming and blessed with naturally good taste. They're seekers of harmony and balance. Most have strong and impartial critical abilities, but once they form an opinion based on knowledge and reason, beware to those who try to challenge them. Emotionally balanced, optimistic and championing moderation, while loathing cruelty and vulgarity, Librans are truly a study in balance.
Scorpio (October 23 to November 21)
Moderate Libras' alter-ego, Scorpios are the most intense and powerful sign of the Zodiac. Forget balance—Scorpio's studied veneer of self-control seldom hides the emotional storm that lives inside them. Known for their volcanic eruptions when pushed, their magnetic intensity and almost hypnotic personality when they turn on the charm, Scorpio is popular and fun to be with but can intimidate those unequal to their power or trapped by their mesmerizing stare. The "watchers" of the zodiac, with often breathtaking eyes, their passion can be overwhelming; their extreme likes and dislikes and rebelliousness invite controversy and discord, but with self-discipline they can channel their natural conviction into a force that can move mountains.
"Celestial" cancel locations
As with last year's four Signs of the Zodiac Official First Day Covers, Stamp Program Manager Elia Anoia and Stamp Content Officer Joy Parks have searched the country to find the most fitting cancel locations for each zodiac sign. The choices for these four stamps are: Leo/Lion's Head ON; Virgo/Sainte-Marie (Beauce) QC; Libra/Justice MB, and Scorpio/Pincher Creek AB.
Watch for what we have planned for the final four signs, to be issued in 2013.

Leo - Booklet of 10 stamps
$6.10
Product #: 413847111
Denomination: 4 x PERMANENT™ domestic rate
Design: Paprika
Dimensions: 32 mm x 32 mm
Printer: Lowe-Martin
Printing Process: Lithography in 7 colours
Quantity: 3,000,000 of each sign
Gum Type: Pressure sensitive
Perforations: Simulated perforation
Tagging: General, 4 sides
Paper Type: Tullis Russell
OFDC Cancellation Location: Lions Head, Ontario
Shop