The Royal Conservatory 125th Anniversary
September 19, 2012
The Royal Conservatory, then named the Toronto Conservatory of Music, opened for classes in September 1887, in the upper floor of a music store at the corner of Yonge and Dundas streets. Edward Fisher, its founder, was a young American organist who had captured the interest and support of Toronto's high society. Today, 125 years later, the Royal Conservatory now makes its home in Toronto's spacious state-of-the-art equipped TELUS Centre for Performing and Learning.
The Conservatory was the first school in Canada focused on training singers and musicians, and fostering a love of music in young children. Just before the turn of the century, the institution has outgrown its humble address and purchased new property at College Street and University Avenue. As it grew to become one of the dominant musical institutions in Canada, so did its reputation for professional training, its national examination system, and its faculty of distinguished musicians. Over the years, some of Canada's most famous musicians studied at the Royal Conservatory, including Glenn Gould, Oscar Peterson, David Foster, Sarah McLachlan and Angela Hewitt.
In 1947, King George VI awarded The Conservatory its Royal Charter, in recognition of its status as one of the Commonwealth's greatest music schools. In 1991, the institution broke from the University of Toronto and took full control of its facilities and programs. Now celebrating its 125th anniversary, the Conservatory's mission continues to be to develop human potential through music and the arts.
The design of the commemorative envelope, created by Canada Post Manager of Graphic Design, Céline Morisset, features a child seen from behind, seated at a piano. According to Morisset, this simple image captures the spirit of the Conservatory. "With the child facing away, she becomes every child who has ever laboured to learn their scales for their piano exam. It also emphasizes the larger role the Conservatory has played in training generations of Canadian musicians. We think it honours the past and depicts the potential of the future."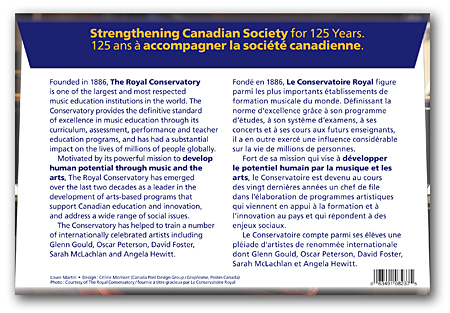 Commemorative Envelope
Product #: 341871
Design: Canada Post Graphic Design Group
Dimensions: Domestic postage paid
Quantity: 8,000
Shop