Lunar New Year: Year of the Snake
January 08, 2013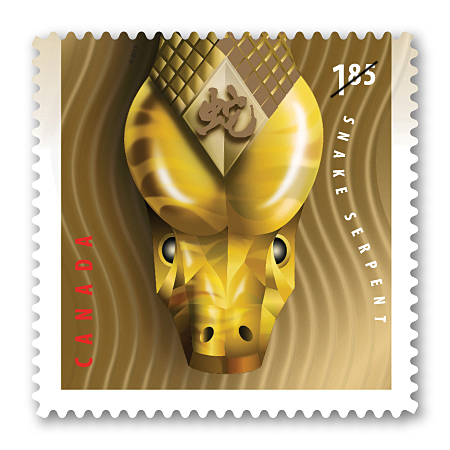 In Western culture, calling someone a snake is considered fighting words. But in the Asian countries that celebrate the Lunar New Year, the Snake is viewed as the wisest and most enigmatic of all the zodiac creatures. In fact, it's such a strong sign of intelligence and luck that an ancient Chinese saying notes that finding a snake in one's home is great fortune and ensures that the inhabitants will never go hungry.
The Year of the Snake, in this case a water snake, slithers in on February 10, 2013, and bids farewell on January 30, 2014. The sixth of 12 creatures in the zodiac, the Snake represents intelligence, materialism and gracefulness. Those born in the Year of the Snake are analytical and tend to look closely before they leap. They love luxury and know how to get what they want. Even if it means scheming and plotting, clever and cunning snakes know that the end justifies whatever means necessary. Still, the Snake requires peace; noise and stress are not well tolerated. The hard-working and ambitious Snake is successful in professional life, but tends to hop jobs, becoming easily bored if not sufficiently challenged or rewarded.
The duo stamp issue (Permanent™ domestic and International) for the Year of the Snake, the fifth in this series, is created in lavish textures befitting the luxury-loving Snake. On the domestic stamp, a red snake slithers on curving waves, symbolizing the water influence on this particular Year of the Snake. On the international stamp, a yellow and green jade snake, artfully embossed on multiple levels to provide three-dimensionality and simulate scales, coils into a stylized 8, the luckiest and most valued number by the Chinese people. Both images visually draw on the most significant character attributes of the Year of the Snake.
For designers Joe Gault and Avi Dunkelman of MIX Design Group in Toronto, and calligrapher Tan Chao Chang, the snake was originally conceived as a three-dimensional object, so it was essential that this dimensionality be present within the stamp. According to Dunkelman, the design team spent months consulting a number of experts in Chinese culture, including curators at the Royal Ontario Museum, and tested designs on his financial planner and Joe Gault's dentist, who are both of Chinese origin. "There's always a concern of creating something that might work graphically, but offend Chinese Canadians."
Technically, the design team was allowed to use two finishes, gold foil and embossing. In addition to the right lighting, the right shadows in the flat image, these finishes were used to create a three-dimensional effect of the snake slithering through the water. Incorporating the water element graphically, through the circles and waves – and then selecting areas of the snake for foiling enhanced the 3D effect. Dunkelman adds, "The passion for this project and the openness to experiment – from Stamp Design Manager Alain Leduc, Gravure Choquet (foil stamping and embossing) and Lowe-Martin (printing) – is what made this stamp issue what it is."
Says Leduc, "We hope that we have met the challenge of continuing to surprise the collector and the mailer with this annual issue. This design, combined with the multi-level embossing technique, has achieved the best three-dimensional effect possible on stamp paper. The illusion of the snake floating on the water is, I think, stunning."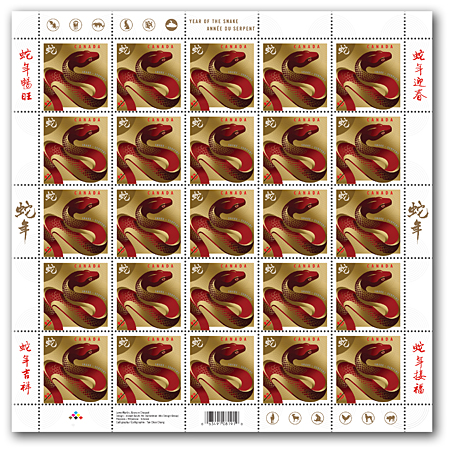 Pane of 25 stamps
Product #: 403876107
Denomination: 1 x Permanent™ domestic rate
Design: Joseph Gault, Avi Dunkelman (Mix Design Group)
Dimensions: 32 mm x 32 mm (square)
Printer: Lowe-Martin, Gravure Choquet
Printing Process: Lithography in 6 colours, one foil stamping, embossing plus varnish
Quantity: 5,000,000
Gum Type: P.V.A.
Perforations: 13+
Tagging: General, 4 sides
Paper Type: Tullis Russell
OFDC Cancellation Location: Toronto, Ontario
Shop