Queen Elizabeth II
January 14, 2013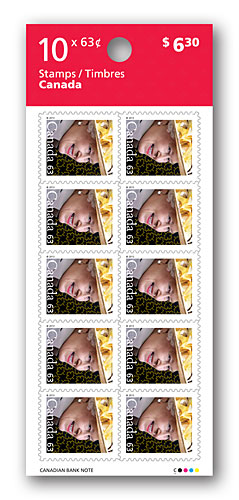 In 1953, Her Majesty Queen Elizabeth II became the first of Canada's sovereigns to be separately proclaimed as Queen of Canada. This definitive stamp issue coincides with 60 years since the Royal Style and Titles Act passed by the Canadian government established the Royal Style and Titles for Canada as "Elizabeth the Second, by the Grace of God of the United Kingdom, Canada and Her other Realms and Territories Queen, Head of the Commonwealth, Defender of the Faith."
The stamp issue focuses on Her Majesty's role as Queen of Canada and incorporates a close-cropped photograph taken during the 2010 Royal Tour set against a subtle maple leaf background.
"We chose the subtle gold maple leaf pattern to bring Canada to the stamp without overwhelming Her Majesty's photograph," explains designer Doreen Colonello, adding that a great photo of the Queen is the key to designing a great stamp.
"Above all, Her Majesty's photo reflects her kindness and honest engagement with people."
The photo was taken on June 28, during the 2010 Royal Tour stop at the Halifax Common where Her Majesty Queen Elizabeth II visited the Mi'kmaq Cultural Village for celebrations marking the 400th anniversary of the baptism of Mi'kmaq Grand Chief Membertou. While there, Her Majesty spoke about the enduring close relationship between the Crown and the Aboriginal peoples of Canada. Other activities that day included the Official Arrival Ceremony, which featured a 21-gun salute, a Snowbirds fly-past and cultural presentations from renowned Nova Scotian and Acadian performing artists.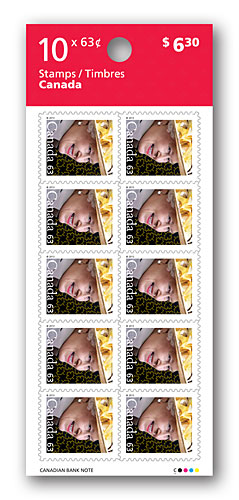 Booklet of 10 stamps
Product #: 111218
Denomination: 1 x 63¢ domestic rate stamp
Design: Entro | G+A
Dimensions: 20.25 mm x 23.25 mm (vertical)
Printer: Lowe-Martin
Printing Process: Lithography in 4 colours
Quantity: Continuous printing
Gum Type: Pressure sensitive
Illustration: Entro | G+A
Perforations: Simulated perforation
Tagging: General, 4 sides
Photography: Her Majesty Queen Elizabeth II, Queen of Canada: Chris Jackson, Getty Images
Paper Type: Tullis Russell
OFDC Cancellation Location: Ottawa, Ontario
Shop