Oliver Jones and Joe Fortes
February 01, 2013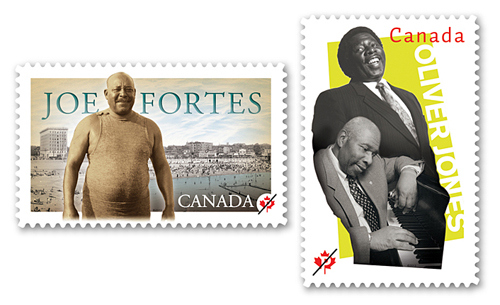 Born in Montréal's Little Burgundy neighbourhood in 1934, to Barbadian parents, Oliver Jones put on his first show at the age of five. By age eight, he was taking formal music lessons – from Daisy Peterson no less, sister of famed pianist Oscar Peterson. By his early twenties, Jones was a musician for hire. After travelling to Puerto Rico to play in the Kenny Hamilton Review and the Oliver Jones Quartet – a gig he continued for 16 years – he returned to Montréal in 1980, and in 1983, released his first jazz album, The Oliver Jones Trio.
Since then, Jones has toured the world, produced more albums and won many awards, including five Junos, four honorary doctorates, and the Ordre national du Québec. In 1994, he was invested as an Officer of the Order of Canada.
"Over the years I have been the very fortunate recipient of numerous awards and accolades," explains Jones. "I thought I had achieved everything that I set out to do. When I was contacted by Canada Post I could not believe that I was chosen for this great honour – I am so proud, and to be part of the Black History series is especially thrilling."
Designer Lara Minja explains the two images on the stamp: "The animated photograph of Jones laughing contains within it a more recent and subdued image of him at the piano, balancing the earlier days of his career with his current performances. The two photographs also illustrate Jones as both an individual and a performer. The first reflects his early career, while the second pays homage to the longevity and enduring popularity of his music."
Seraphim "Joe" Fortes arrived in Vancouver from his native Trinidad and Tobago in 1885. Enamoured with the many beautiful swimming locations, he decided to stay, eventually moving into a tent on his favourite beach at English Bay. While there, he taught both adults and children to swim and appointed himself voluntary patrolman, chaperoning couples and chasing away hooligans.
In 1894, the city formalized Fortes' volunteer work, making him an official lifeguard. Fortes excelled at the job, reputedly saving many lives. In 1901, he was made an official swimming instructor, receiving pay for the summer months. Fortes became such a beloved citizen that, in 1910, a private committee awarded him a gold watch and a locket – both of which he is wearing in the photograph on the back of the stamp booklet – as well as a cheque for $472.
When Fortes passed away in 1922, Vancouverites were stricken with grief. The city paid for a public funeral, which thousands attended. In 1927, citizens raised money to install a fountain at English Bay in Fortes' honour. The inscription reads "Little children love him."
"My overall intention, explains Minja, was to bring life to the character of Joe Fortes, showing him as a strong and personable man, who was caring, responsible, fun-loving, and honourable."
Fortes is shown on the stamp in his swimming apparel as many would remember him, against a background of the beach he loved so dearly. Minja notes that "it was important to show him in context, standing in the forefront of the stamp with English Bay, circa 1919, well-protected, so to speak, behind him."

Booklet of 10 stamps
Product #: 413878111
Denomination: 2 x Permanent™ domestic rate
Design: Lara Minja (Lime Design Inc.)
Dimensions: 26 mm x 40 mm (vertical)
Printer: Lowe-Martin
Printing Process: Lithography in 4 colours
Quantity: 2,200,000 per booklet
Gum Type: Pressure sensitive
Perforations: Simulated perforation
Tagging: General, 4 sides
Photography: Photography: A – Oliver Jones: Yves Renaud; Kate Hutchinson; iStockphoto.com B – Joe Fortes: City of Vancouver Archives, AM336-S3-2-:CVA 677-440 and AM1535-:CVA 99-1223 (Stuart Thompson), AM54-S4-3-:PAN N77 (W.J. Moore), AM54-S4-:SGN 10; Vancouver Public Library, 39420A; iStockphoto.com.
Paper Type: Tullis Russell
OFDC Cancellation Location: Montréal, Quebec
Shop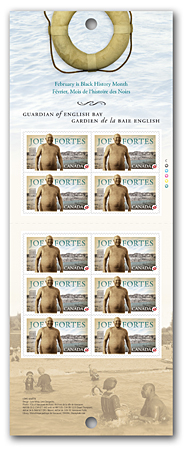 Booklet of 10 stamps
Product #: 413879111
Denomination: 2 x Permanent™ domestic rate
Design: Lara Minja (Lime Design Inc.)
Dimensions: 40 mm x 24 mm (horizontal)
Printing Process: Lithography in 5 colours
Quantity: 2,200,000 per booklet
Gum Type: Pressure sensitive
Perforations: Simulated perforation
Tagging: General, 4 sides
Photography: Photography: A – Oliver Jones: Yves Renaud; Kate Hutchinson; iStockphoto.com B – Joe Fortes: City of Vancouver Archives, AM336-S3-2-:CVA 677-440 and AM1535-:CVA 99-1223 (Stuart Thompson), AM54-S4-3-:PAN N77 (W.J. Moore), AM54-S4-:SGN 10; Vancouver Public Library, 39420A; iStockphoto.com.
Paper Type: Tullis Russell
OFDC Cancellation Location: Vancouver, British Columbia
Shop