Motorcycles
June 05, 2013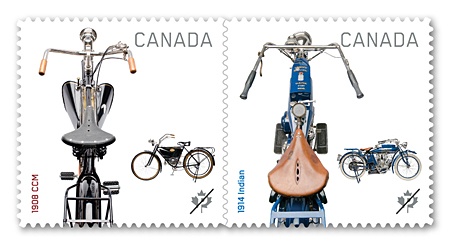 The Canadian landscape is built for motorcycles. Think of freedom and exploration. Think of where the road meets expansive prairies, jagged mountains and dense boreal forests. Think of riding into the horizon without a windshield coming between you and each new vista.
In turn, Canadians have built motorcycles for the landscape. A total of 21 different brands have travelled with riders, carried competitors across finish lines, served alongside police officers and supported soldiers overseas.
The first motorcycles, like the Lightweight Motor Cycle built by the Canadian Cycle and Motor Company (CCM), drew inspiration from the freedom afforded by early automobiles. Among the few motorcycles CCM produced, the 1908 model featured on the stamp sported a Swiss-designed engine that could be installed on any conventional bike frame.
Four years later, the Indian, represented here by the 1914 model, met with widespread commercial success. Massachusetts-based Hendee Manufacturing Co. – later known as the Indian Motorcycle Company – built the bikes at a factory on Toronto's Mercer Street. The Indian became the bike of choice for Canadian racer "Wild Joe" Baribeau, winning him provincial and national racing championships. Impressed by the abilities of the Indian, Canadian police departments began ordering the bike for their own motorcycle corps.
Matt Warburton of Emdoubleyu Design drew on his personal passion for motorcycles to design these stamps. "I've been a motorcyclist all my life," explains Warburton. "My Dad got me into motorbikes. It was my Dad's love of motorcycles that got me interested in them as a young boy. He was incredibly excited and proud about these stamps."
Warburton chose to keep the design simple, focusing on the motorcycle itself. "I wanted to capture the structural beauty of a motorcycle, the design of the bikes, the beauty of the shapes of the engines, body and tanks."
The result is a stamp that highlights two views of the bike. The most prominent is the top view of the rider, the other is of the bike's profile. The Official First Day Cover shows off even more of the profile, while the background gets up close to the engines.
However, there's more to Warburton's design than just the beauty of the motorcycle. He explains that motorcycles represent a broad range of interests including sports, transportation, recreation and pastime – and he wanted the design to appeal to all of them. "Motorcycles mean different things to different people, but the basic elements of an engine and two wheels are what connect every enthusiast," he says.
In addition to the photographs of classic bikes, Warburton chose a postmark based on a famous poster from World War II. "I wanted to leave Canadians with a sense of pride in the rich history we have of Canadian-built motorcycles."
This issue featuring the 1908 Lightweight Motor Cycle and the 1914 Indian is the first in a series dedicated to Canadian motorcycle manufacturing and design.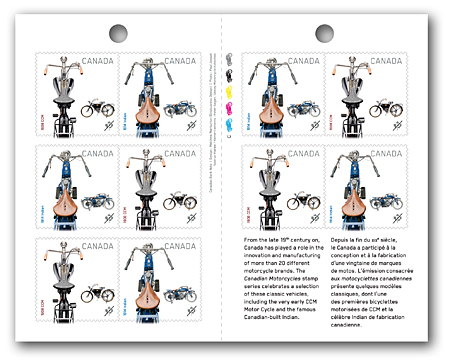 Booklet of 10 stamps
Product #: 413895111
Denomination: 2 x Permanent™ domestic rate
Design: Matthew Warburton (Emdoubleyu Design)
Dimensions: 32 mm x 32 mm
Printer: Canadian Bank Note
Printing Process: Lithography in 5 colours
Quantity: 3,500,000
Gum Type: Pressure sensitive
Illustration: Mark Pilon
Perforations: Simulated perforation
Tagging: General, 4 sides
Photography: Paul Joseph
Paper Type: Tullis Russell
OFDC Cancellation Location: Port Dover, Ontario
Shop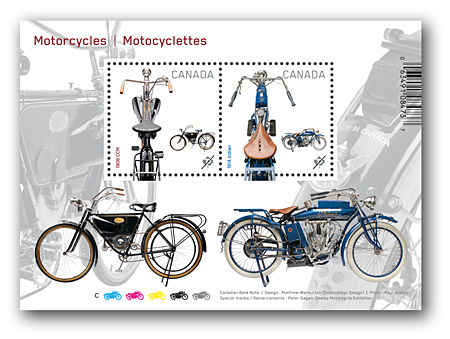 Souvenir sheet
Product #: 403895145
Denomination: 2 x Permanent™ domestic rate
Design: Matthew Warburton (Emdoubleyu Design)
Dimensions: 115 mm x 83 mm (horizontal)
Printer: Canadian Bank Note
Printing Process: Lithography in 5 colours
Quantity: 170,000
Gum Type: P.V.A.
Illustration: Mark Pilon
Perforations: 13+
Tagging: General, 4 sides
Photography: Paul Joseph
Paper Type: Tullis Russell
OFDC Cancellation Location: Port Dover, Ontario
Shop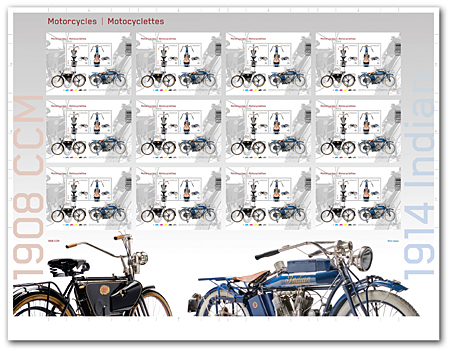 Product #: 403895149
Denomination: 2 x Permanent™ domestic rate
Design: Matthew Warburton (Emdoubleyu Design)
Dimensions: 616 mm x 483 mm
Printer: Canadian Bank Note
Printing Process: Lithography in 5 colours
Quantity: 5,000
Gum Type: P.V.A.
Illustration: Mark Pilon
Perforations: 13+
Tagging: 4 sides
Photography: Paul Joseph
Paper Type: Tullis Russell
OFDC Cancellation Location: Port Dover, Ontario
Shop