Canadian Recording Artists: The Bands
July 19, 2013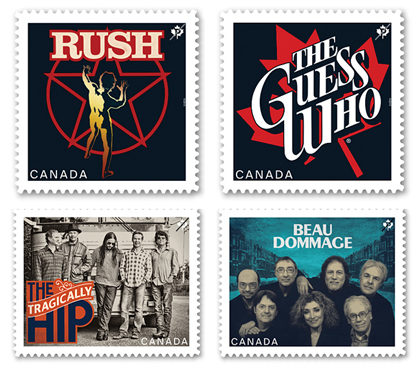 These stamps featuring The Tragically Hip, Rush, The Guess Who and Beau Dommage are the latest in our ongoing series honouring Canadian recording artists – and the first to feature bands rather than individual performers. The commercial and critical success that these groundbreaking musicians have achieved reaches far beyond our borders.
The Tragically Hip
Five friends from Kingston, Ontario – Gordon Downie, Paul Langlois, Rob Baker, Gord Sinclair, and Johnny Fay – founded The Tragically Hip in 1984. The band's name, chosen quickly before the first gig, was inspired by Elephant Parts, a short video by former Monkee, Michael Nesmith.
Known for energetic live performances, The Hip has established a demanding concert itinerary, touring extensively in Canada, the U.S. and Europe.
The band has released 12 studio albums, two live albums, one extended play (EP) and 54 singles, and sold millions of records worldwide. Enjoying mass popularity and critical success, The Hip has received numerous awards, including 14 JUNO Awards, the Governor General's Performing Arts Award and induction into the Canadian Music Hall of Fame.
Rush
Rush has sold in excess of 40 million records worldwide, ranking third behind the Beatles and the Rolling Stones for most gold and platinum records sold by a rock band. Since releasing its debut album in 1974, the Toronto group has become one of Canada's most successful and influential rock bands.
Proving that success doesn't have to come at the expense of artistic innovation, Rush has won numerous JUNO Awards and international distinctions. Band members Geddy Lee, Alex Lifeson and Neil Peart were made Officers of the Order of Canada and won the Governor General's Performing Arts Award for Lifetime Artistic Achievement. Recognized by the Canadian Music Hall of Fame and the Canadian Songwriters Hall of Fame, Rush became the first Canadian band inducted into the Rock and Roll Hall of Fame in April 2013, making it part of an elite few among Canadian artists to be so honoured.
The Guess Who
The Guess Who got their start in Winnipeg in 1962 when singer and songwriter Chad Allen joined Jim Kale, Randy Bachman, Garry Peterson and Bob Ashley to form Chad Allen and the Reflections. In 1965, the band's single "Shakin' All Over" was released to radio stations in a plain white record jacket bearing only the words "Guess Who?". Intended to pique curiosity, the name immediately caught on.
Following Bob Ashley's departure, Burton Cummings joined the group. Throughout the band's career, The Guess Who have recorded 14 top-40 hit singles, sold millions of albums, won two JUNO Awards and been inducted into the Canadian Music Hall of Fame, Canada's Walk of Fame and the Canadian Music Industry Hall of Fame. In 2002, the band received the Governor General's Performing Arts Award for Lifetime Artistic Achievement. While its membership has changed over the years, the group continues to record and perform to sold-out audiences across the globe.
Beau Dommage
Pierre Bertrand, Pierre Huet, Robert Léger and Michel Rivard wrote their first songs when they were in university, performing in intimate, smoke-filled rooms or boîtes à chansons where many young Quebec singers got their start.
Mutual admiration for one another's work led the group to join forces, and Beau Dommage was born. Named for a common or colloquial expression meaning "you bet," the group flourished with the addition of Marie-Michèle Desrosiers, Réal Desrosiers, and later, Michel Hinton.
Beau Dommage made a strong name for itself with its self-described "folk-rock-urban" sound, rich harmonious vocals and lyrics rooted in the Québécois culture. The band's first album, which was self-titled, sold hundreds of thousands of copies – and its second, Où est passée la noce?, achieved equal success.
Beau Dommage toured throughout Quebec and across Europe from 1975 to 1978. Although the group eventually disbanded, a strong friendship still binds its members, who reunited in 1984, 1992, 1995 and 2005.
Over the course of its existence, Beau Dommage won numerous prizes and awards, including double-platinum status, Félix trophies, and a Billet d'or recognizing strong ticket sales for its live performances. It was the first band ever to receive a medal of honour from the National Assembly of Quebec.
The stamps
Designer Louis Gagnon of Paprika drew on feedback from the groups in this series to focus on what fans recognized most about their beloved artists. The result: stamps with group shots of Beau Dommage and The Tragically Hip alongside stamps featuring the iconic logo of The Guess Who and the fan-favourite cover of Rush's album, 2112.
Each stamp will be released individually on its own First Day Cover. For the design, Gagnon had access to press and performance shots as well as album covers. To keep everything united, he showed each group's graphic logo and kept colour tones and textures consistent.
"The main challenge was trying to catch the mood of each band, while keeping a respectful look and feel," explains Gagnon. The current band members were present in the development process and gave their input all the way through. That helped us balance how we saw the final result and how they wanted to be represented."
"Although these bands have existed for over 30 years, they are still active and performing today," he adds, "so we wanted to stay as close as possible to a timeless treatment."
Canada Post's Stamp Design Manager Liz Wong echoed those challenges. "Representing the incredible history of these groups in just a few images is nearly impossible. Balancing history with the present to create something classic and lasting was essential."
"This release is really about the fans," says Wong. "We wanted to turn the larger-than-life character of each group into something that every fan would recognize and love."
For Gagnon, working on the series was an honour. "These names have enormous history and, along with their all-time classics, are still very influential in the rock scene," he says. "It was very rewarding to design their stamps, considering that these will travel the world and be part of special collections."

Booklet of 10 stamps
Product #: 413898111
Denomination: 4 x Permanent™ domestic rate
Design: Paprika
Dimensions: 32 mm x 32 mm (square)
Printer: Lowe-Martin, Gravure Choquet
Printing Process: Lithography in 6 colours, one foil stamping, embossing plus varnish
Quantity: 2,500,000
Gum Type: P.V.A.
Perforations: Simulated perforation
Tagging: General, 4 sides
Photography: Gordon Hawkins
Paper Type: Tullis Russell
OFDC Cancellation Location: Toronto, Ontario
Shop