Calgary Flames
September 03, 2013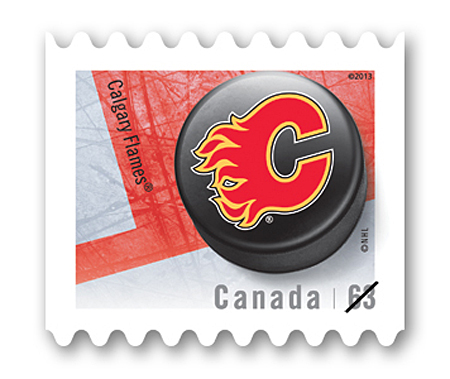 In 1980, the Atlanta Flames found a new home in Calgary, where the city embraced the team and its fiery name. After playing its first three seasons at the Stampede Corral, the team moved to its current home at the Scotiabank Saddledome (originally, the Olympic Saddledome). In 1985-86, the Flames became the first Calgary team since the 1923-24 Tigers to compete for the Stanley Cup. They won their first and only championship three years later.
The most distinctive element of the Flames' initial jersey – which remained largely unchanged for 15 seasons – was the large, flaming "C" on its front. The crest appeared in red on the home jersey, which was white, while the opposite held true for the road jerseys. In 1995, major changes were implemented, with black added as a team colour, the striping patterns changed, and the sleeves given a tricoloured treatment.
In 1998, the team introduced an alternate jersey that was primarily black, with "V" striping on the torso and sleeves. The flaming "C" was moved to the shoulder and replaced by a new logo of a fire-breathing horse head. In 2000, the two crests switched places.
From 2003 to 2006, the team had three jerseys. A new version for home games, featuring dark red and the flaming "C" in black, appeared in the 2004 playoffs. In 2007, the Reebok EDGE jersey sported the added feature of both the Canadian and Albertan flags. In 2009, the team's vintage jerseys, heavily inspired by the initial design, also brought back the traditional triple yellow and white stripes. For the 2010-11 season, the Flames introduced a special vintage jersey to mark the team's 30th anniversary.
In this commemorative stamp, the Flames player shows off the club's current uniform, while a fan proudly models his team's first jersey, which dates back to 1980.
Says Canada Post Stamp Design Manager Liz Wong, "There's nothing that identifies a team more than its uniform. It's immediate recognition. And with both the current and vintage jerseys on the same stamp, it also portrays the long-term legacy many teams have established in their home city."
"We had a great deal invested in winning this commission," jokes Avi Dunkelman, of MIX Design Group. "Joseph [Gault, creative partner at MIX] plays on a hockey team every week. If we weren't awarded this assignment, how could he show his face at practice?"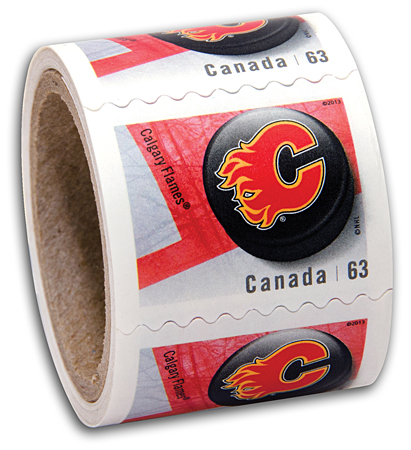 Product #: 101378
Denomination: 7 x 63¢
Design: Avi Dunkelman, Joseph Gault | MIX Design Group
Dimensions: 24 mm x 20 mm (horizontal)
Printer: Lowe-Martin
Printing Process: Lithography in 4 colours
Quantity: 1,050,000 of each team
Gum Type: Pressure sensitive
Illustration: Ron Dollekamp
Perforations: Simulated perforation
Tagging: General, 4 sides
Paper Type: Tullis Russell
OFDC Cancellation Location: Toronto, Ontario
Shop