Edmonton Oilers
September 03, 2013
The Edmonton Oilers have been members of the National Hockey League since 1979. It didn't take long for the Oilers to find their niche in the NHL, with the team quickly going on to win five Stanley Cup titles in seven seasons: 1983-84, 1984-85, 1986-87, 1987-88 and 1989-90. In recognition of their high level of performance, the Oilers of this era were bestowed with dynasty status by the Hockey Hall of Fame.
Their first Stanley Cup win, in 1983-84, made the Oilers the only former WHA team to capture hockey's most coveted prize. That same season, Mark Messier was awarded the Conn Smythe Trophy as most valuable player in the playoffs; although, having Wayne "The Great One" Gretzky on the team roster certainly didn't hurt. No Oiler jersey is better known than Gretzky's No. 99.
The Oilers' original NHL jersey was blue, orange, and white – with the home jersey predominantly white and the road version blue. The team's highly recognizable emblem, featuring oil-slicked lettering and a single droplet of oil, repeated the team colours.
In 1996, the Oilers made several changes to their uniform. The team colours became a darker blue, copper, red and white. The shoulder yoke was dropped from the home jersey, and the orange stripes shifted to copper with a red outline.
In 2001, the team introduced a white, silver and blue alternate jersey bearing a new logo: a large gear with a drop of oil at its centre. In 2007 with the Reebok EDGE jersey and in 2008, the team returned to its original colours and logo.
Liz Wong, Canada Post Stamp Design Manager for the NHL issue, notes that she was happy the designers got to spend time with Craig Campbell, the archivist at the Hockey Hall of Fame. "They were able to tap into the nation's wealth of hockey memorabilia and knowledge – and, of course, see all the jerseys."
On this stamp, the player on the ice wears the Oilers' current uniform and a fan in the stands wears a vintage jersey from 1979, the year the team joined the NHL. Says designer Avi Dunkelman of MIX Design Group, "That connection is what makes the stamp interesting, even if you don't follow hockey: the illustration shows the relationship between the fan and the player, and the fan's emotional investment in the team."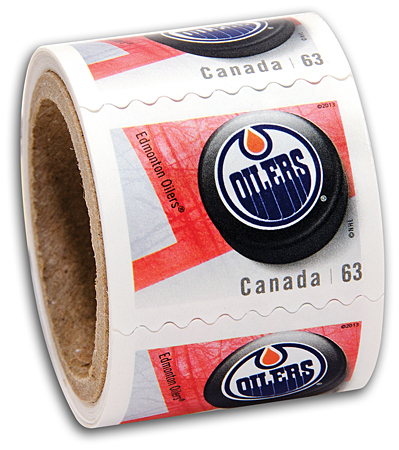 Product #: 101379
Denomination: 7 x 63¢
Design: Avi Dunkelman, Joseph Gault | MIX Design Group
Dimensions: 24 mm x 20 mm (horizontal)
Printer: Lowe-Martin
Printing Process: Lithography in 5 colours
Quantity: 1,050,000 of each team
Gum Type: Pressure sensitive
Illustration: Ron Dollekamp
Perforations: Simulated perforation
Tagging: General, 4 sides
Paper Type: Tullis Russell
OFDC Cancellation Location: Toronto, Ontario
Shop