Montreal Canadiens
September 03, 2013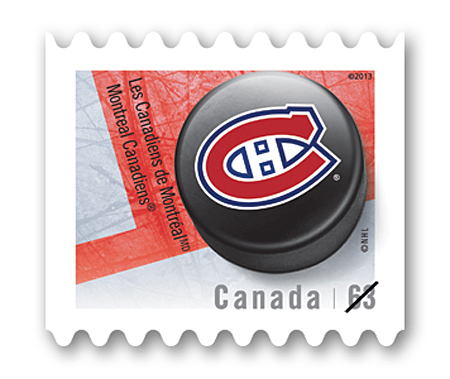 The Montreal Canadiens formed on December 4, 1909, with the new team taking just one month to come together for its first game. The Canadiens' 7-4 win over the Cobalt Silver Kings marked their first and last game as members of the Canadian Hockey Association. Days later, they joined the newly formed National Hockey Association (NHA), losing their first game 9-4 to the Renfrew Creamery Kings.
The 1916-17 season was the last for the NHA, but it was a new beginning for the Canadiens, who helped form the National Hockey League in 1917. Fresh off a Stanley Cup win the previous year, the team adopted its now-iconic "CH" crest. Thought by some to be a reference to the team's nickname, Les Habitants or Habs, the letters actually stand for Club de hockey Canadien.
Since then, there have been few changes to the Canadiens' jerseys, aside from subtle adjustments to the colour and shape of the crest and stripes. During the 1924-25 season, the crest was temporarily moved to the arm and replaced on the front of the jersey by a globe and the word "champions" to commemorate their second Stanley Cup win the year before. In 1935-36, a white variation of the jersey was introduced to help distinguish the Canadiens from the Detroit Red Wings®. The following year, the team changed its brown pants to blue to match the blue stripes on its uniform. Since 1958, numbers have been added to the sleeves and, since 1977, the players' names have appeared on their backs.
A team with a legendary history, the Montreal Canadiens have honoured 17 players by retiring their jersey numbers (Nos. 12 and 16 were retired twice). Highlights include Bernard "Boom Boom" Geoffrion (5), Howie Morenz (7), Maurice Richard (9), Guy Lafleur (10), Ken Dryden (29) and Patrick Roy (33).
The commemorative stamp depicts a current jersey as well as one from 1946, which shows some minor differences in detail but still proudly bears the "CH" crest that generations of Canadiens fans have come to recognize.
"The Montreal Canadiens have such an incredible history," says Canada Post Stamp Design Manager Liz Wong. "With a crest that has remained relatively the same for almost 100 years, the team's jerseys have a tradition and legacy that, in the minds of many fans, is almost as old as hockey itself."
Stamp designer Avi Dunkelman credits Hockey Hall of Fame archivist Craig Campbell with helping to develop the series. "Craig was a fantastic source of information," says Dunkelman. "He took us down to the storage facilities, which are massive and contain all of the team's uniforms over the years."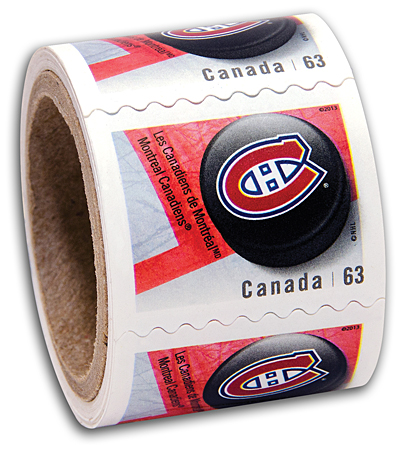 Product #: 101374
Denomination: 7 x 63¢
Design: Avi Dunkelman, Joseph Gault | MIX Design Group
Dimensions: 24 mm x 20 mm (horizontal)
Printer: Lowe-Martin
Printing Process: Lithography in 4 colours
Quantity: 1,750,000
Gum Type: Pressure sensitive
Illustration: Ron Dollekamp
Perforations: Simulated perforation
Tagging: General, 4 sides
Paper Type: Tullis Russell
OFDC Cancellation Location: Toronto, Ontario
Shop