NHL® Team Jerseys
September 03, 2013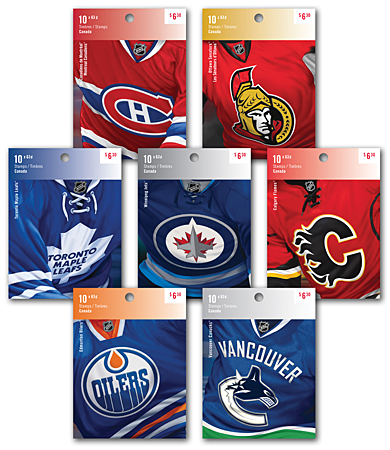 Canadians from coast to coast to coast cheer for, believe in, agonize over and speculate about their favourite hockey teams. Whether we're competing in fantasy hockey pools, collecting cherished player cards, playing shinny on backyard rinks, or chanting wildly from our arena seats, we all dream of sharing the ice with our favourite players and heroes of the past.
In Montréal, Ottawa, Toronto, Winnipeg, Calgary, Edmonton and Vancouver, storied teams contend for the adoration of their fans. What drives these dedicated diehards is pride in the Stanley Cup® dynasties of the Toronto Maple Leafs, the Montreal Canadiens, and the Edmonton Oilers. What rallies their roar is the return of legendary teams like the Ottawa Senators and the Winnipeg Jets. And what fans their frenzy is division rivalry between teams like the Vancouver Canucks and the Calgary Flames.
No matter which National Hockey League® (NHL) team they cheer for, fans show their pride by donning the colours of their favourite team. Our 14-stamp issue celebrates that enthusiasm. Coil stamps feature the logos of Canada's seven NHL teams, recognizing the symbols that spur on their supporters. Commemoratives show a player from each team in his current home jersey while, in the background, the ever-present fans cheer from behind the glass. The jerseys they sport – both vintage and new – celebrate not only the proud history of the NHL but also the exciting future of the game they love.
We all know what hockey means to Canadians, but let's not forget how much the fans themselves – especially of these seven teams – mean to the game. Hockey is, after all, our official national winter sport.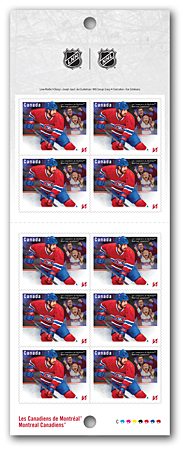 Montreal Canadiens | Booklet of 10 stamps
$44.10
Product #: 413915111
Denomination: 7 x 63¢
Design: Avi Dunkelman, Joseph Gault | MIX Design Group
Dimensions: 40 mm X 32 mm
Printer: Lowe-Martin
Printing Process: Lithography in 7 colours
Quantity: 2,800,000
Gum Type: P.V.A.
Illustration: Ron Dollekamp
Perforations: Simulated perforation
Tagging: General, 4 sides
Paper Type: Pressure sensitive
OFDC Cancellation Location: Montréal, Quebec
Shop