Ottawa Senators
September 03, 2013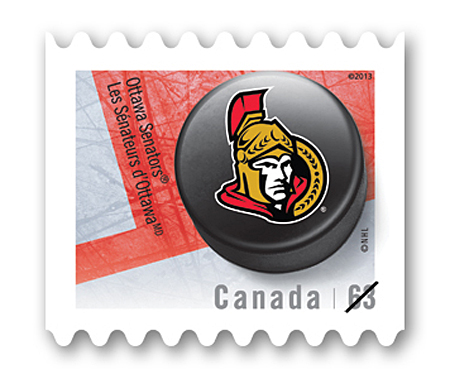 Hockey in our nation's capital has been more than a century-long tradition. The city's first team, formed in 1884, was originally known as the Ottawa Hockey Club but became the Generals during the 1890 season to better reflect its militaristic logo.
In 1902, a new name, new colours and a new logo were unveiled, and the Ottawa Senators appeared in their historic red, white and black sweaters emblazoned with the letter "O." The Senators became the first professional team to win the Stanley Cup, capturing a total of 11 wins before several losing seasons and financial difficulties forced them to move to St. Louis in 1934.
The Senators franchise was resurrected for the 1992-93 season. Eager to bring back the original team name and colours, Bruce Firestone obtained permission to use aspects of the original uniform design and colours. New to the jersey was a Roman centurion logo and an arm patch bearing the Roman numerals MDCCCXCIV or 1894, the year the Ottawa Generals battled the Montreal AAA (Amateur Athletic Association) in the first Stanley Cup final.
In 1997 and 2000, alternate jerseys were introduced: both had a variation of the centurion crest but the colours and design remained similar.
In 2007, Reebok™ released their new EDGE jerseys, which featured a new, simplified design for the Senators, with home and away jerseys bearing the away logo and featuring the original "O" logo as a shoulder patch. These jerseys are still in use today, although another solid black alternate was introduced in 2008 bearing the word "SENS" across the front and the standard shoulder patch. On October 13, 2011, the Senators' heritage jersey made its debut, commemorating the successful early years of the original team with a shoulder patch inspired by the "World Champs" crest the Senators wore after their Stanley Cup victory in 1926-27.
Frank Finnigan's No. 8 is the only Sens jersey to be retired. Daniel Alfredsson and Jason Spezza have donned the red, white and black during their careers.
Canada Post Stamp Design Manager Liz Wong believes that a strong connection has always existed between hockey players and their spectators, "The history of the connection between fans and franchise was very important. We wanted to capture a broader picture of the team's history with an early jersey for the fan – and a current one for the player on the ice."
On this stamp, the player sports a 2007 Reebok EDGE design, while a spectator in the stands shows his enthusiasm for the Ottawa Senators in a 1992 jersey, the first uniform worn by the current-era team.
Reebok™ is a trademark of Reebok International Limited.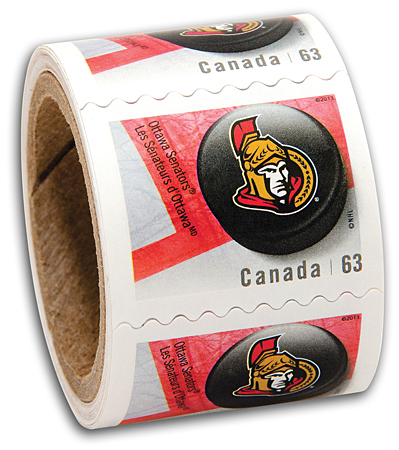 Product #: 101375
Denomination: 7 x 63¢
Design: Avi Dunkelman, Joseph Gault | MIX Design Group
Dimensions: 24 mm x 20 mm (horizontal)
Printer: Lowe-Martin
Printing Process: Lithography in 4 colours
Quantity: 1,750,000
Gum Type: Pressure sensitive
Illustration: Ron Dollekamp
Perforations: Simulated perforation
Tagging: General, 4 sides
Paper Type: Tullis Russell
OFDC Cancellation Location: Toronto, Ontario
Shop