Toronto Maple Leafs
September 03, 2013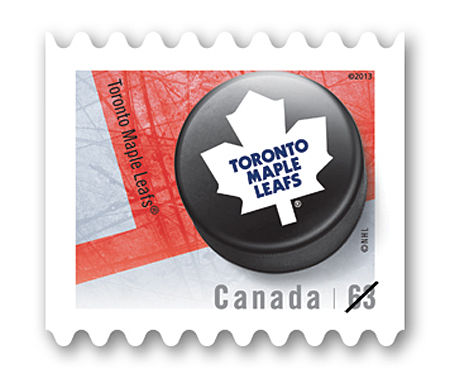 One of the Original Six™, the Toronto Maple Leaf Hockey Club originated in 1917 – the same year as the National Hockey League. Known simply as Toronto during its early days, but also as the Toronto Arenas, the team changed hands in 1919, when it was renamed the Toronto St. Patricks (or St. Pats for short). It wasn't until 1926, after another change in ownership, that the Toronto Maple Leafs and their characteristic blue and white colours made their first appearance.
The Leafs played their home games at Maple Leaf Gardens from 1931 to 1999, when the historic arena closed and home ice shifted to the new Air Canada Centre. The team has won 13 Stanley Cup championships over the course of its long career, the last one in 1967.
The evolution of the Leafs' jersey has mirrored changes in the team's name and ownership. Originally bearing a simple "T" on the front and the player's number on the back, the word "ARENAS" was added for the 1918-19 season. During their years as the St. Pats – a name chosen to attract support from the city's growing Irish population – players wore green and white jerseys with the team name emblazoned across their chest.
Several variations on this colour scheme were made until 1927, when the legendary Conn Smythe bought the team. His focus on civic and national pride was exemplified by the decision to call the team the Maple Leafs. The maple leaf logo followed soon after, as did the return to the traditional blue and white – colours that have been the standard for Toronto sports teams since the 1873 Argonauts.
The Leafs started with two jerseys: one blue with white, and the other an inverse of the two. Minor changes occurred over the years, based on trends in sport fashion and sport uniform technology. Yokes, tie-downs, stripes, outlines and banding all made an appearance and, on occasion, design elements from past jerseys were incorporated into new ones. In 1967, the team updated its maple leaf to match Canada's relatively new flag; in 1970, it changed again to the one we still see today. In 2000, the Leafs' first full season at the Air Canada Centre, the team's initials were added as a shoulder patch.
In the Maple Leafs' commemorative stamp, the player on the ice wears the current jersey, and the fan sports a vintage look from 1967 – Canada's centennial year.
Designer Avi Dunkelman of MIX Design Group notes," I went to the Toronto games while we were working on this design and I found myself watching the interaction of the fans and noticing even small details, like how high the boards came up around the ice. It was fascinating how much the fans got involved."
Stamp Design Manager Liz Wong adds, "It's interesting how much these jerseys were connected to outside events – like, in 1967, when the Maple Leafs changed the emblem on their jerseys to resemble the new flag. Hockey really is part of the nation's psyche, and it's these details that prove it."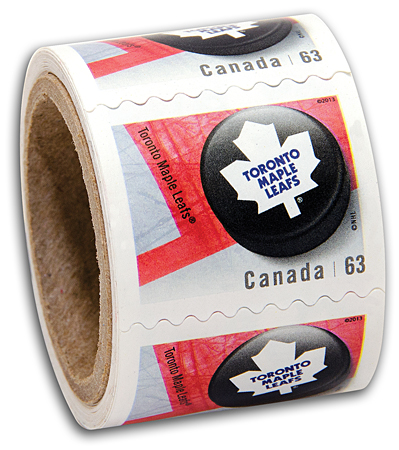 Product #: 101376
Denomination: 7 x 63¢
Design: Avi Dunkelman, Joseph Gault | MIX Design Group
Dimensions: 24 mm x 20 mm (horizontal)
Printer: Lowe-Martin
Printing Process: Lithography in 5 colours
Quantity: 1,750,000 of each team
Gum Type: Pressure sensitive
Illustration: Ron Dollekamp
Perforations: Simulated perforation
Tagging: General, 4 sides
Paper Type: Tullis Russell
OFDC Cancellation Location: Toronto, Ontario
Shop