Vancouver Canucks
September 03, 2013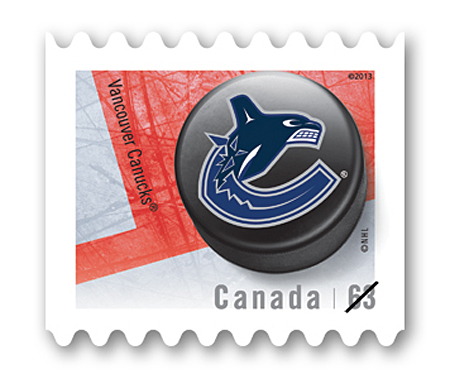 The first Vancouver team to skate under the name "Canucks" arrived in 1945 as part of the Pacific Coast Hockey League and won the league championship in its first year. The Canucks' home venue, the Vancouver Forum, still stands as part of the Pacific National Exhibition.
In 1970, the Vancouver Canucks joined the National Hockey League as an expansion team. Since then, they have played their way to three Stanley Cup Finals: against the New York Islanders® in 1982, the New York Rangers® in 1994 and the Boston Bruins® in 2011.
The Canucks' jersey has changed significantly over four decades in the NHL. The first sweater featured a C-shaped stick-on-rink crest, emblazoned on either a white or blue background trimmed with green, white and blue stripes. The 1978-79 season witnessed a radical change in the colour scheme – to black, gold and orange – and the addition of a large, striped "V" down the front of the jersey and a new crest on the sleeves.
Several changes took place in the 1980s and 1990s. In 1985, the "V" was replaced with a new flying-skate crest, and in 1989, the home jersey changed from gold to white. In 1992, the Canucks adopted a patch supporting Canuck Place, a hospice for terminally ill children. An even bigger transformation occurred in 1997, when the team's colours were changed to navy, sky blue, maroon and silver with a new crest – a C-shaped logo formed by an orca whale bursting out the of ice. In 2003, the team reintroduced its original logo as a shoulder patch, and in 2007, it returned to its original colours.
The Canucks have retired these players' jerseys: Stan Smyl (12), Trevor Linden (16) and Markus Naslund (19). Pavel Bure's (10) will be retired this season.
The jerseys depicted on the commemorative stamp include the current one, sported by the player on the ice, and the then-radical 1997 version, worn by a cheering fan.
To stamp designer Avi Dunkelman, the fans are an essential part of the equation. "We explored a lot of ways of presenting the teams," he explains, "but this way also depicted the relationship between the fans, the team they follow, and the game Canadians love."
"When two teams are playing, particularly in the playoffs, the team colours fill the stands," notes Liz Wong, Stamp Design Manager at Canada Post. "Fans want to show who they're rooting for. They want to show their colours. That's a big part of the experience – we depict that in these stamps."
®/TM NHL, the NHL Shield and the Stanley Cup name are registered trademarks and the word mark Original Six is a trademark of the National Hockey League. All NHL logos and marks and NHL team logos and marks depicted herein are the property of the NHL and the respective teams and may not be reproduced without the prior written consent of NHL Enterprises, L.P. © NHL 2013. All rights reserved.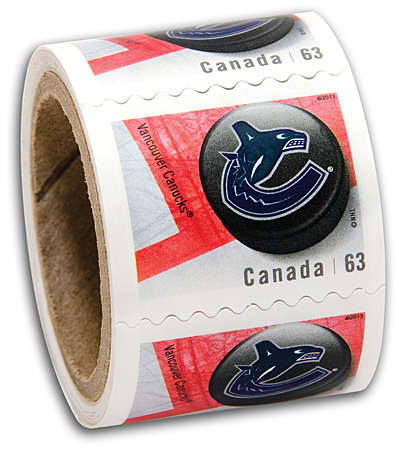 Product #: 101380
Denomination: 7 x 63¢
Design: Avi Dunkelman, Joseph Gault | MIX Design Group
Dimensions: 24 mm x 20 mm (horizontal)
Printer: Lowe-Martin
Printing Process: Lithography in 5 colours
Quantity: 1,050,000 of each team
Gum Type: Pressure sensitive
Illustration: Ron Dollekamp
Perforations: Simulated perforation
Tagging: General, 4 sides
Paper Type: Tullis Russell
OFDC Cancellation Location: Toronto, Ontario
Shop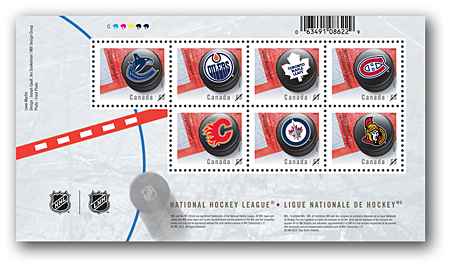 Souvenir sheet of 7 stamps
$4.41
Product #: 401374145
Printing Process: Lithography in 5 colours
Quantity: 230,000
Gum Type: P.V.A.
Perforations: +13
Shop