Winnipeg Jets
September 03, 2013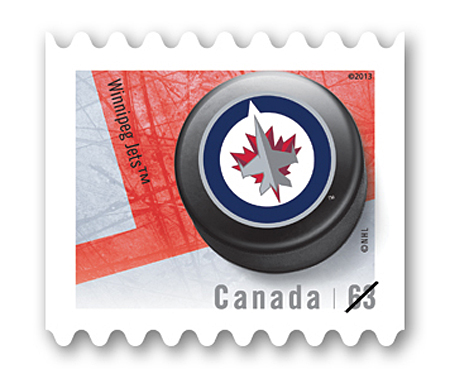 Although the National Hockey League left Winnipeg in 1996, it made a triumphant return in 2011. Jubilant crowds revelled in the resurrection of the storied name of the Winnipeg Jets, which had been used by both the World Hockey Association (WHA) franchise from 1972 to 1979 and the NHL franchise from 1979 to 1996, when it moved south to become the Phoenix Coyotes®.
When the Winnipeg Jets arrived, the team began a drive to sell 13,000 season tickets with a limited pre-sale. Days later, when the offering opened to the general public, enthusiastic fans picked up the rest of the tickets in just 17 minutes. The team's first game – held on October 9, 2011, in Winnipeg – drew massive crowds and, despite a 5-1 loss to the Montreal Canadiens, fervent support from fans. At their next home game, the Jets notched their first win, beating the Pittsburgh Penguins® 2-1. They went on to win 23 of their 41 home games that season, and the stadium filled every time to its 15,000+ capacity.
The Jets developed a new logo inspired by their beloved name and the community's special relationship with the Royal Canadian Air Force (RCAF). The new home jersey was unveiled during a ceremony at 17 Wing Winnipeg: the dark blue sweater trimmed with lighter blue, the same colours used in the original RCAF roundel, after which the crest was also modelled. The shoulder patch – a secondary logo of the team – sports two hockey sticks crossed behind silver lines, reminiscent of an aviator's badge.
Both the primary and secondary logos were featured on Canada Post's Picture Postage™ products to commemorate the return of NHL hockey to Winnipeg in 2011. Canada Post also featured the team's first goal, against the Canadiens, on Picture Postage.
On our new commemorative stamp, a player takes to the ice with the Winnipeg Jets' dark blue home jersey. In the background, a fan cheers from behind the glass in a crisp white Winnipeg Jets away jersey.
Stamp designer Avi Dunkelman noted that "Winnipeg's drive to have an NHL franchise return to the city drew heavily on the support of fans. Their enthusiasm really springs from a shared love of hockey, a shared history of pickup games on outdoor rinks and a shared memory of games played and victories won."
"The city's fans have thrown their support behind their new team," says Canada Post Stamp Design Manager Liz Wong. "On our commemorative, a young fan proudly wears the away jersey of her team. Hopefully, in the future, Winnipeg Jets fans will look back at these stamps and say 'I remember when I wore that…' That's the response we want, that sense of history."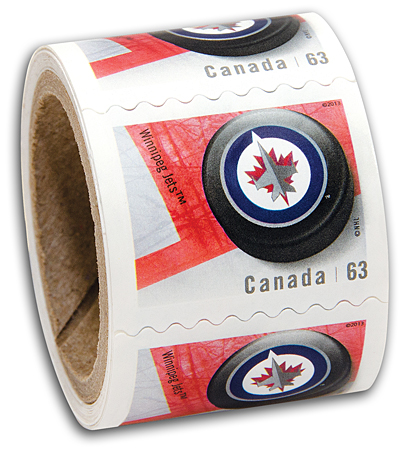 Product #: 101377
Denomination: 7 x 63¢
Design: Avi Dunkelman, Joseph Gault | MIX Design Group
Dimensions: 24 mm x 20 mm (horizontal)
Printer: Lowe-Martin
Printing Process: Lithography in 4 colours
Quantity: 700,000
Gum Type: Pressure sensitive
Illustration: Ron Dollekamp
Perforations: Simulated perforation
Tagging: General, 4 sides
Paper Type: Tullis Russell
OFDC Cancellation Location: Toronto, Ontario
Shop