Commemorative envelope: The Royal 22e Régiment
October 19, 2013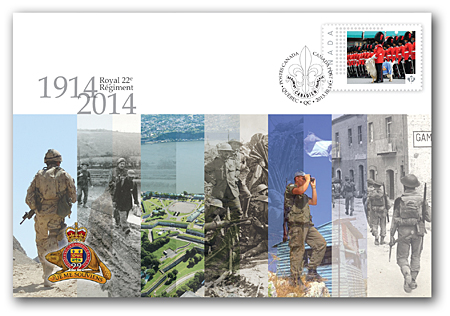 Headquartered at the Québec Citadel, the Royal 22e Régiment is the only Francophone infantry regiment in the regular Canadian Forces, drawing its membership from across the country.
The Regiment's precursor – the 22nd (French-Canadian) Battalion – was formed on October 14, 1914, after entrepreneur Arthur Mignault encouraged the creation of a French-Canadian battalion. The only French-Canadian unit to fight in the First World War, it was renamed the 22e Régiment at the end of the war and, in 1921, received royal designation from King George V.
In the Second World War, the Regiment fought with distinction in Sicily, Italy, the Netherlands and northern Germany. The Royal 22e Régiment also served throughout the Korean War, in many NATO and UN missions and in Afghanistan.
The regimental motto, Je me souviens (I remember), echoes the provincial motto of Quebec and, in the context of the Regiment's history, calls on its own members and the public to remember past sacrifices.
Today, visitors to the Québec Citadel can tour the Regiment's museum and meet its mascot, Batisse, who appears on the commemorative envelope featuring the regimental changing of the guard.