Royal Ontario Museum 100th Anniversary
April 14, 2014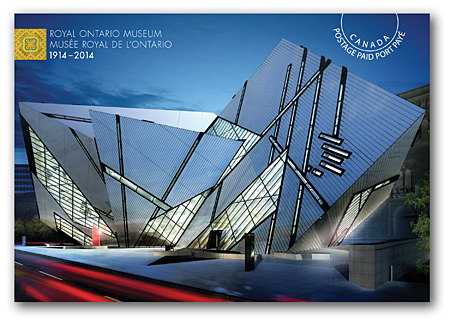 The Royal Ontario Museum (ROM) opened 100 years ago in 1914, but it was born earlier in the hearts and minds of two men. Sir Byron Edmund Walker – a banker, civic activist, art collector and amateur palaeontologist – was the driving force to establish a world-class museum in Toronto. Charles Trick Currelly was an adventurer and collector whose nose for artifacts laid the foundation of the ROM's early collections. Over the next century, the building and the collections would evolve into a world-renowned institution.
Currelly's story reads like that of a Canadian "Indiana Jones." His interest in archaeology led him to explore the antiquities of Egypt, Crete and Asia Minor, and record such far-flung adventures in a memoir, I Brought the Ages Home. He was appointed the first director of the Royal Ontario Museum of Archaeology. Since that time, the ROM has become a globally respected exhibition of world cultures and natural history.
Each year, around a million visitors experience the wonder of the ROM. Its fascinating galleries, covering a wide range of topics in natural sciences and world civilizations, entertain, enlighten and inspire.
With six million artifacts and specimens to choose from, Entro designer Gerald Querubin and art director Doreen Colonello had some difficult decisions to make on the issue's designs. "Our goal was to create a set of stamps that honoured each object, allowing each piece to be venerated, as in the Museum itself," says Colonello. "Each piece is a monument of our history and a work of art. We didn't want our design to interfere with this beauty, so it's secondary: simple typography and lots of white space." Designer Gerald Querubin adds, "The objects are part of the tradition and history of the ROM, while the Michael Lee-Chin Crystal architecture represents the ROM's continuing research and visionary future."