Komagata Maru 100th Anniversary
May 01, 2014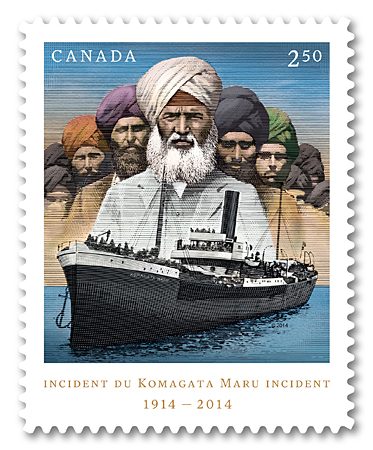 In the spring of 1914, a sad, two-month drama unfolded in Vancouver. The 376 passengers of the Japanese steamship Komagata Maru arrived in Burrard Inlet on May 23, but officials allowed only a handful into Canada – 20 returning residents, along with the ship's doctor and his family. The remainder waited on board in difficult conditions for some 60 days until the ship, most of its passengers and their hopes for a better life were escorted away from the harbour by the Royal Canadian Navy.
Harbhajan Gill, President of the Komagata Maru Heritage Foundation, is proud to see the release of a stamp to raise awareness of what happened.
"The Foundation has done a good job educating people in the South Asian community, but there are still many Canadians who don't know about the incident," explains Gill. "We'd love this stamp to prompt questions. This is part of Canadian history."
The arrival of the Komagata Maru passengers – all British subjects and mostly Sikhs from Punjab, India – presented a major challenge to regulations aimed at barring Asian immigrants from Canada. Those regulations included a "continuous journey" clause and stipulated that immigrants must have $200 in cash – an obligation most found impossible to meet. Forced to leave Vancouver on July 23, the passengers returned to India, where approximately 20 of them were shot and others imprisoned. The regulations they boldly faced would change only 33 years later.
"Even though it was a sad event, Canadians should take away a happy message. We've learned from those mistakes and made positive, inspiring change in 100 years," says Gill. "We're a new Canada, one that treats everyone as equal."
Issued on the first day of Asian Heritage Month, this stamp commemorates the struggle of the Komagata Maru passengers and celebrates the contribution of the South Asian community, and indeed all Asian Canadians, to Canada's diversity and prosperity.