UNESCO World Heritage Sites in Canada
May 16, 2014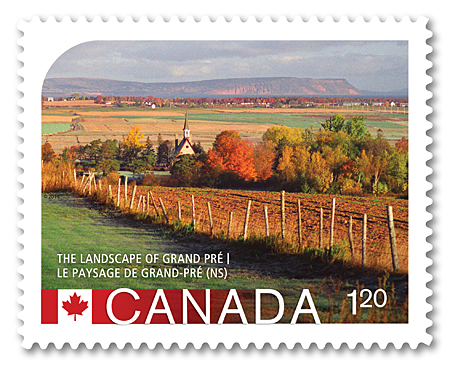 These sites – some more than 5,700 years old – hold clues that whisper to all who visit. The World Heritage Committee of the United Nations Educational, Scientific and Cultural Organization has recognized the significance of these places, and their irresistible call has been answered by travellers from around the world eager for a glimpse into the art, culture and lives of our ancestors.
Stamp designer Lara Minja of Victoria-based Lime Design strove to make these international and U.S. rate stamps into tiny invitations to the world, beckoning the inquisitive to discover our shared history.
"I hope that the stamps evoke what it would feel like to stand in each place and feel the history permeate the skin," says Minja. "To know that others have walked before you – that by being there, you are a part of living history – is a powerful feeling."
Curious? Begin your journey through time in Alberta at the evocatively named Head-Smashed-In Buffalo Jump. Here for thousands of years, Aboriginal peoples of the Plains hunted bison by herding them over the edge of the sandstone cliff. At British Columbia's SGang Gwaay, a now-abandoned village on Haida Gwaii, the weathered remains of 10 houses and 32 mortuary and memorial poles still stand in an area long-inhabited by the Haida. Travel to the opposite coast in Nova Scotia and see the landscape of Grand Pré, shaped by Acadians in the 17th and 18th centuries, or stop in the old town of Lunenburg, where 18th and 19th century settlers raised wooden structures whose colours delight visitors to this day. Then wrap up your journey in our nation's capital to find the youngest of these World Heritage sites. Officially opened in 1832, the Rideau Canal is a monument to the achievements of Colonel By, his Royal Engineer officers and the thousands of workers who built the 47 locks of this 202-kilometre waterway.
Of these sites, Minja says, she believes they represent Canada as a country with a distinct and varied history that helps us better understand and connect to our modern lifestyles. "These stamps illustrate the immense diversity and beauty of Canada and uncover particular stories of community, survival, economy and culture."