Haunted Canada
Issued: June 13, 2014
June 13, 2014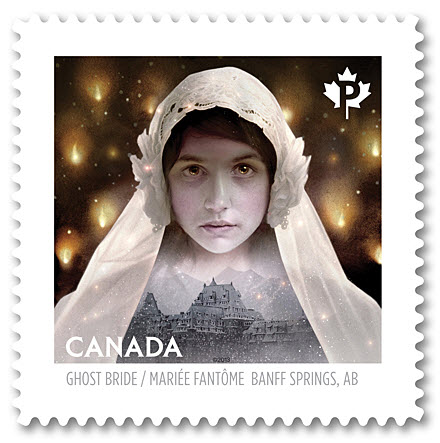 Article published in
A fearsome fiction is one thing – but when the eerie story is based on accounts of real people who swear they've felt, heard or even seen a ghost – the supernatural is sensational! We're unleashing this spine-tingling series of five tales told across this land, with an Official First Day Cover cancelled in Gorrie, Ontario.
Haunts featured on the stamps
In the 1920s at the Fairmont Banff Springs Hotel, a young woman was descending the stairs on her wedding day when the heel of her shoe caught in her gown's train, and she tumbled down the steps to a tragic end. Guests and hotel employees claim to have seen the lone bride dancing the wedding waltz by herself, then disappearing.
St. Louis, Saskatchewan, is home to the St. Louis Light, also known as the St. Louis Ghost Train. For over 80 years, on a stretch of abandoned rail north of town, some have witnessed a glowing light believed to be the spectre of a long dead Canadian National Railway (CNR) conductor who literally lost his head in the 1920s to a passing train.
Built between 1796 and 1799 and now a popular tourist site, Fort George at Niagara-on-the-Lake, Ontario, was key to British defenses and served as British Army headquarters during the War of 1812. A young soldier is said to haunt the top floor of the barracks, and there are tales of a spirited little girl who was once bold enough to take the hand of a tour guide.
In the Fairmont Le Château Frontenac, the hotel's most famous otherworldly resident is French Governor Louis de Buade, Count of Frontenac. The Count fostered the growth of New France from 1672 to 1698, and his coat of arms marks the entrance to the Château, part of which lies on the site of his former home. Some have spotted him, dressed in 17th century garb, wandering the halls or floating through the ballroom.
The Northumberland Strait flows between Prince Edward Island to the north and New Brunswick and Nova Scotia to the south. A site of many shipwrecks, the strait is a watery grave for legions of seafarers. For at least the past 200 years, those nearby claimed to have seen a burning ship, and onlookers attempting a rescue have approached the vessel only to see it vanish in the mist.
View the complete product selection, ordering and tax information.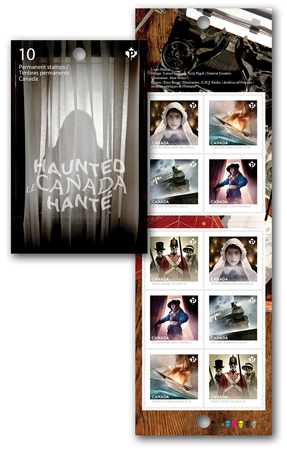 Booklet of 10 stamps
$8.50
Product #: 413910111
Denomination: 5 x Permanent™ (domestic rate)
Design: Isabelle Toussaint Design Graphique
Dimensions: 32 mm x 32 mm
Printer: Lowe-Martin
Printing Process: 5 colours + holographic foil
Quantity: 400,000
Gum Type: P.V.A
Illustration: Sam Weber, C.H.J. Snider / Archives of Ontario
Photography: Peter Bregg
OFDC Cancellation Location: Gorrie ON
Shop