Canadian Photography
July 07, 2014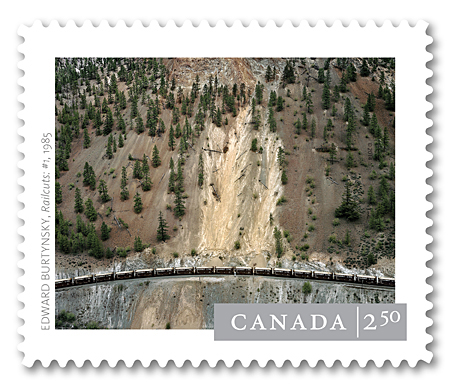 Article published in
Imagine having to choose the best images to reflect Canadian photography from the past 150 years – and depict that talent in just seven stamps a year. That balancing act would demand expertise and judgment. In planning this multi-year series, Stamp Design Manager Alain Leduc approached a group of archivists and museum curators with historical and technical knowledge of photography in Canada.
They chose 35 photographers they deemed prominent in the history of Canadian photography. They were then asked to suggest one representative photograph from each artist. From this list, Leduc and his design team chose seven artists to be featured on five domestic-rate stamps, one U.S. denomination and one international stamp for each year of the series. They also had to consider the period in which the photo was shot, the location, and its quality and integrity once reduced to stamp size.
The 2014 edition of the series includes domestic stamps featuring Fred Herzog's Bogner's Grocery (1960), Lynne Cohen's Untitled (1970), Michel Lambeth's St. Joseph's Convent School (1960), C.D. Hoy's Unidentified Chinese man (circa 1912) and Louis-Prudent Vallée's Quebec City in Winter (1894). William Notman's Sitting Bull and Buffalo Bill (1885) graces the U.S. denomination. Edward Burtynsky's Railcuts #1, shot at Skihist Provincial Park in British Columbia in 1985, appears on the international stamp.
This series and the initial issue in 2013 were created by long-time stamp designer Stéphane Huot of Montréal. The two Official First Day Covers – one featuring horizontal shots and the other, vertical ones – were cancelled in Ottawa, Ontario.
View the complete product selection, ordering and tax information.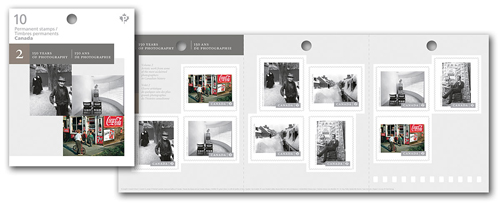 Booklet of 10 stamps
$8.50
Product #: 413939111
Denomination: 5 x Permanent™ (domestic rate)
Design: Stéphane Huot
Dimensions: 30 mm x 36 mm
Printer: Lowe-Martin
Printing Process: Lithography in 6 colours
Quantity: 400,000
Gum Type: P.V.A
Photography: Fred Herzog (1960), Lynne Cohen (1970), Michel Lambeth (1960), C.D. Hoy (circa 1912), Louis-Prudent Vallée (1894), William Notman (1885), Edward Burtynsky (1985)
OFDC Cancellation Location: Ottawa ON
Shop