Canadian Country Artists
July 31, 2014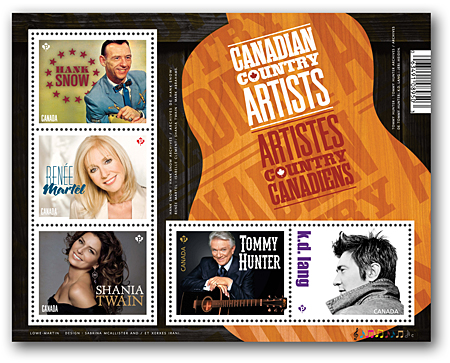 From the twangy notes and yodels of Hank Snow to the mellow tones of Tommy Hunter, the Quebec folk influence on Renée Martel, and the crossover hits of Shania Twain and k.d. lang, this issue presents a broad spectrum and some of the greatest Canadian names in country music.
Each stamp has been individually designed – by Sabrina McAllister and Xerxes Irani (Twain, Martel and Snow) and Subplot's Roy White (lang and Hunter) – to capture the unique style of the artists. The designs are founded on photographs that epitomize the way these five talented singers are known to their fans. This issue was made possible by the decision to produce five separate booklets and Official First Day Covers – one for each artist – plus a souvenir sheet that brings them together in perfect harmony.
Says designer Sabrina McAllister, "For the design and approach to the stamps, I focused on bringing out the personality of each musician in the style of typography, use of photography and colour palette."
Shania Twain: International Superstar
Shania Twain was born in Windsor, Ontario, on August 28, 1965, and rose to fame in the early 1990s with her debut album, Shania Twain (1993). She achieved worldwide success with her 1997 album, Come On Over, which became the best-selling album of all time by a female musician, and the best-selling country album of all time. To date, Twain has released four studio albums as well as a greatest hits album, and has sold over 75 million albums worldwide, establishing her as an international superstar.
Twain has won numerous awards including five Grammy Awards, 27 BMI Songwriter Awards, 26 Canadian Country Music Awards, and 12 JUNO Awards among many others. In 2011, Twain was inducted into the Hollywood Walk of Fame, the Canadian Music Hall of Fame, and she also released her first memoir, entitled From This Moment On, which quickly climbed the best sellers list of The New York Times. December 2012 marked the opening of Twain's two-year Las Vegas residency show SHANIA: STILL THE ONE at the Colosseum of Caesars Palace, which has received rave reviews. Twain continues to perform in Las Vegas for sold-out audiences, taking them on a spectacular musical journey through the stages of her life and career.
Renée Martel: Her father's daughter
Born in Drummondville, Quebec, in 1947, Renée Martel grew up in a home filled with music; both parents were professional musicians. In 1967, Renée moved to Montréal, where she kicked off her career by being named Discovery of the Year and making a number of television appearances. In 1969, her first three singles – Liverpool, Je vais à Londres, and Viens changer ma vie were hits that made Renée Martel a household name.
Over her career, she has recorded close to 25 albums and more than 50 singles, some of which were Felix Award winners. Her sound incorporates modern and traditional styles, pop music and, of course, her country heritage.
Since her 2002 autobiography, Ma vie, je t'aime, the Quebec star has completed other albums, Un amour qui ne veut pas mourir (2006), L'héritage (2008), Une femme libre (2012), and more recently, La fille de son père (2014), a tribute to her father. Building on a long and outstanding career, Renée Martel continues to perform for her many adoring fans with boundless energy and love of life.
Hank Snow: Grand Ole Opry Royalty
Clarence Eugene "Hank" Snow was born on May 9, 1914, in Brooklyn, Nova Scotia. He survived a difficult childhood and, as a young teen, went to work as a cabin boy on a schooner. On payday, feeling flush, Snow spent a few dollars on his first guitar, a T.Eaton Special. This humble beginning led him to Halifax's CHNS Radio in 1933, where he began his career, while also performing at county fairs and on local radio stations in the Maritimes and Western Canada.
In 1936, Snow recorded under RCA Victor's Bluebird label in Montréal and signed what would become the longest continuous contract in the history of the country music recording industry – lasting 47 years.
Country music legend Ernest Tubb invited Snow to join the Grand Ole Opry in 1950, where he -continued to perform for four and a half decades. That same year, his landmark hit I'm Movin' On topped the Billboard country chart and remained there for 21 consecutive weeks, a feat yet to be surpassed. Over the years, Snow recorded more than 100 albums, was elected to eight music and song-writing halls of fame, and was voted Canada's top country performer 10 times.
k.d. lang: "Let your freak flag fly"
Born Kathryn Dawn Lang in Consort, Alberta, November 2, 1961, k.d. lang launched her career with the independent debut album Friday Dance Promenade in 1983. In 1986 she released Angel With A Lariat to worldwide critical and commercial acclaim.
The legendary Roy Orbison chose her to record a duet of his standard, Crying. The collaboration won them the Grammy Award for Best Country Collaboration with Vocals in 1989. Over the past three decades, k.d. lang has released more than a dozen albums and sold millions of copies worldwide. She has won both JUNO and Grammy awards, was invested into the Order of Canada in 1997, and received a Governor General's Performing Arts Award for Lifetime Artistic Achievement in 2005. She has also been named Female Vocalist of the Year and Entertainer of the Year by the Canadian Country Music Association several times.
Her haunting performance of Leonard Cohen's Hallelujah was a highlight at the opening ceremony of the Vancouver 2010 Olympic Winter Games. At the 2013 JUNO Awards ceremony, k.d. lang, an animal rights activist and champion of gay rights, praised Canadians for their acceptance of difference. That evening she was formally inducted into the Canadian Music Hall of Fame.
Tommy Hunter: Canada's Country Gentleman
Tommy Hunter got his start at a young age: armed with a rented guitar, the legend from London, Ontario, began performing at his local church and a veteran's hospital at nine years old. Inspired by country legend Roy Acuff, he worked to perfect the musicianship and on-stage persona that would make him so popular.
The 16-year-old Hunter marked his radio debut in 1952, and by the time he was 20, he was a featured singer on CBC-TV's Country Hoedown. This experience paved the way for his own series, The Tommy Hunter Show, on which appeared the likes of Shania Twain, k.d. lang and Hank Snow. The broadcast lasted for 27 years, making it the longest-running network country music show in the world and making Hunter's name synonymous with Canadian country music.
Tommy Hunter was inducted into the Canadian Country Music Hall of Fame, appointed to the Order of Ontario and the Order of Canada, and recognized with a Lifetime Achievement Award by the Country Music Association of Ontario and the Gospel Music Association of Canada.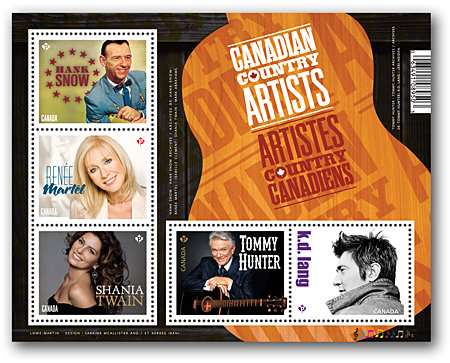 Souvenir sheet of 5 stamps
$4.25
Product #: 403942145
Denomination: 5 x Permanent™ (domestic rate)
Design: Sabrina McAllister, Xerxes Irani (Twain, Martel, Snow); Roy White, Subplot Design Inc. (lang, Hunter)
Dimensions: 140 mm x 110 mm
Printer: Lowe-Martin
Printing Process: Lithography in 8 colours
Quantity: 250,000
Gum Type: P.V.A
Photography: Mark Abrahams (Twain), Isabelle Clément (Martel), Jeri Heiden (lang), Tommy Hunter Archives, Hank Snow Archives
Shop