Régiment de Hull
Commemorative envelope
August 07, 2014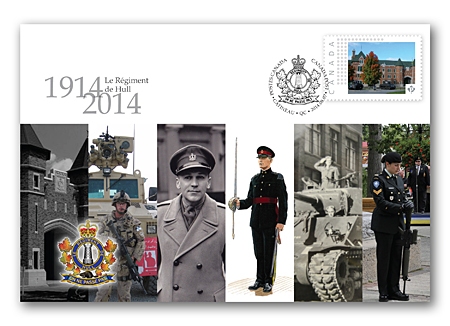 Commemorative envelope
Founded in 1914 as a response to the outbreak of the First World War, the Régiment de Hull – known then as the 230e Bataillon des Voltigeurs canadiens français – served as part of the Forestry Corps. Volunteers also fought at the front alongside other regiments. This commemorative envelope recognizes the Régiment de Hull and its 100 years of service that began in the trenches of Europe.
Based on archival photographs from the Regiment, the envelope recalls those early days and later service in Germany, Korea, Cyprus, Israel, Haiti, the former Yugoslavia and Afghanistan.
The Salaberry Armoury, home to the Regiment and the site of local recruitment during the Second World War, appears on the envelope's postage, -cancelled in Gatineau, Quebec.