Great Canadian Comedians
August 29, 2014
Canadians are funny people – not odd (although some are), but humorous. And our comedians? They're hilarious. Canada is the birthplace of some of entertainment's most successful comedians by any measure (even for what's trivial, like the number of times Canadian duo Wayne and Shuster appeared on The Ed Sullivan Show – 67, if you want to know).
Our ability to make the world laugh is something we take so seriously, that we teach it. Two colleges, one in Montréal and the other in Toronto, offer post-secondary programs in comedy writing and performance. Comedy is also big business. Montréal's internationally renowned bilingual festival, Just For Laughs, is a magnet for tourists. Canadian impresario Lorne Michaels's Saturday Night Live in New York has remained on the air for decades, launching many Canadian comedy careers. For more than 50 years, Toronto's Second City troupe has been a training ground for generations of comedians – and was where the sketch comedy show SCTV began.
The funny people honoured in this stamp issue are some of the many Canadian comedians who keep us laughing.
Mike Myers
Mike Myers spent his early years in Scarborough, Ontario, where he learned to love Monty Python and Benny Hill from his father. In 1982, Myers began his career – as did so many others – by joining Toronto's Second City ensemble. He was more precocious than his peers, earning an interview on the same day he wrote his final high school exam.
From the Second City stage, Myers joined the cast of Saturday Night Live as a featured player and writer in 1989. There, he created characters such as Deiter, Lothar of the Hill People and Linda Richman. His Wayne Campbell, along with SNL cast-mate Dana Carvey's Garth Algar, vaulted the TV sketch to the big screen with Wayne's World in 1992 and its 1993 sequel.
Myers also created, wrote, produced and starred in Austin Powers: International Man of Mystery, playing the groovy lead and villainous Dr. Evil. He reprised those roles, and played even more characters in the sequels, Austin Powers: The Spy Who Shagged Me and Austin Powers in Goldmember.
More recently, Mike Myers was the voice behind the titular green ogre in the Shrek movies, and in 2013, he made his directorial debut with Supermensch: The Legend of Shep Gordon.
Photography: Edie Baskin
Austin Powers: International Man of Mystery; Austin Powers: The Spy Who Shagged Me; Austin Powers in Goldmember: TM/MC & © New Line Productions, Inc.
(s14)
Martin Short
A native of Hamilton, Ontario, Martin Short began performing at a young age, staging imaginary talk shows in his bedroom, complete with music and interviews. Though his interest in show business was evident early on, he completed a degree in social work at McMaster University.
In 1977, Short kicked off his comedic career by joining the Toronto Second City troupe. In 1982, he moved to the new show of SCTV, where he created such memorable characters as Jackie Rogers, Jr., Brock Linehan, Brad Allen, Irving Cohen and Ed Grimley. Some of them would reappear later in The Completely Mental Misadventures of Ed Grimley (1988) and I, Martin Short, Goes Hollywood (1989).
When SCTV ended, Short jumped to the big screen, co-starring as Ned Nederlander with Steve Martin and Chevy Chase in Three Amigos (1986). He has also lent his voice to hit animated movies, including Jimmy Neutron: Boy Genius (2001) and more recently, Frankenweenie (2012), where he worked with former SCTV co-star, Catherine O'Hara.
Also at home on the live stage, he won a Tony Award for Best Actor (Musical) in 1999 for his role in a revival of Little Me, while his 2006 hit musical Martin Short: Fame Becomes Me thrilled audiences. Among his many achievements, Martin Short was invested as a Member of the Order of Canada on October 19, 1994.
Photos: Courtesy of Martin Short
Catherine O'Hara
Drawn to her hometown comedy scene, Catherine O'Hara began waitressing at Second City in Toronto. In no time, she auditioned for the troupe and earned a coveted spot on stage in 1974. O'Hara moved to television with the launch of the successful comedy sketch show, SCTV. She appeared on set in a range of roles, from the bombastic entertainer Lola Heatherton to the overly enthusiastic game show contestant Margaret Meehan, co-starring with John Candy, Eugene Levy, Andrea Martin, Rick Moranis, Martin Short and Dave Thomas. As a writer for the show, she earned an Emmy in 1982.
O'Hara began her film career in 1985, with Martin Scorsese's After Hours. Three years later, she brought Delia Deetz to life in Tim Burton's Beetlejuice. She captured the lead role of Kate McCallister, Kevin's mother in Home Alone in 1990, and reprised that role in the sequel two years later. As a voice actor, O'Hara has lent her comedic talent to The Nightmare Before Christmas (1993), Chicken Little (2005), Over the Hedge (2006) and Frankenweenie (2012).
The recipient of many awards, Catherine O'Hara was inducted into Canada's Walk of Fame in 2002 as a member of the SCTV cast and in 2007 for her own achievements.
Photography: Jerry Avenaim
Beetlejuice; For Your Consideration: TM/MC & © Warner Bros. Entertainment Inc.
A Mighty Wind: TM/MC & © Castle Rock Entertainment
(s14)
Olivier Guimond
Olivier Guimond rose to fame on Quebec's burlesque scene, appearing at age 17 with his parents, Effie MacDonald and Olivier Guimond senior. Knowing the difficult life of a performer, his parents tried to point him in a different direction. Fortunately for his fans, he continued to shine in on Montréal's celebrated cabaret stages, including the Théâtre National, the Théâtre des Variétés, the Théâtre Odéon-Mercier, the Comédie-Canadienne and Place des Arts.
In the 1960s, Guimond lent his fame and recognizable face to Labatt's Brewery. At the same time, various appearances on popular television stations added to an already impressive resume. Then from 1965 to 1970, Guimond starred in the title role of Basile Lebrun in the popular TV series Cré Basile.
Guimond crowned his successful career with an appearance on Radio Canada's well-known annual comedy review Bye Bye in 1970. The landmark sketch drew on the tension created by the October Crisis. In it, Guimond stars as a Francophone soldier who guards the home of a wealthy Anglophone. When the homeowner speaks to the guard, their humorous conversation – punctuated with Guimond's popular physical humour – poignantly reveals the similarities and shared interests of the two communities. Luc Guimond says that this sketch and his father's portrayal of Basile Lebrun on Télé-Métropole stand as the elder Guimond's greatest achievements.
Photos: Courtesy of the Guimond Family
Jim Carrey: Comic genius
Jim Carrey was born in Newmarket, Ontario, on January 17, 1962. The youngest of four children, Carrey was a natural entertainer who gave his first stand-up performance when he was just 14 years old.
It wasn't long before Carrey became a staple on Toronto's comedy circuit. In 1979, he took a leap of faith and moved to Los Angeles, where he quickly made his mark with appearances on An Evening at the Improv and The Tonight Show and as a regular on the sketch comedy series In Living Color.
Hollywood soon came calling – and Carrey answered with starring roles in some of the most successful movies of all time, including Ace Ventura: Pet Detective, The Mask, Dumb and Dumber, Liar, Liar, The Truman Show and Eternal Sunshine of the Spotless Mind. In addition to winning two Golden Globes and 10 MTV Movie Awards and earning a star on Canada's Walk of Fame, Carrey is also one of the biggest box office stars in the world; his films have grossed more than $2.5 billion.
Photography: Steve Granitz | Getty Images
Ace Ventura: Pet Detective – Courtesy Morgan Creek Productions
The Mask; Dumb and Dumber: TM/MC & © New Line Productions, Inc.
(s14)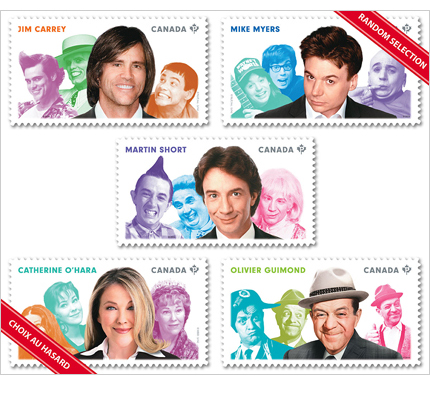 Booklet of 10 Stamps
$8.50
Product #: 413949111
Denomination: 10 x Permanent™ (domestic rate)
Design: Kosta Tsetsekas, Mike Savage, John Belisle (Signals)
Dimensions: 40 mm x 26 mm
Printer: Canadian Bank Note
Printing Process: Lithography in 5 colours
Quantity: 300,000
Gum Type: P.V.A
Photography: Courtesy Martin Short; courtesy Guimond Family; Edie Baskin (Myers); S. Granitz, Getty Images (Carrey); Jerry Avenaim (O'Hara)
Shop