Canada Post Community Foundation
September 29, 2014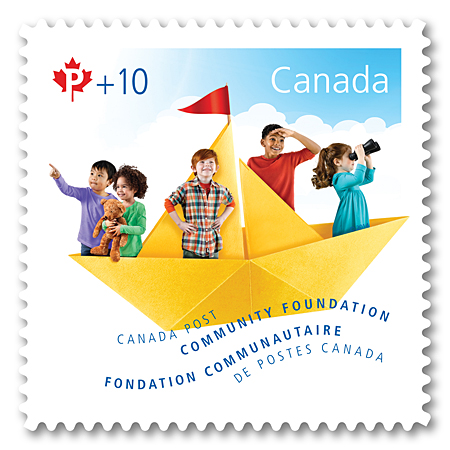 The Canada Post Community Foundation recently awarded $1.35 million in funding to grassroots and community-based child and youth organizations across the country.
Since 2007, the Foundation has provided more than $9 million in assistance to libraries, breakfast programs, anti-bullying initiatives, Kids Help Phone, Big Brothers Big Sisters of Canada, Boys and Girls Clubs of Canada, sports clubs and others. The Foundation receives hundreds of requests from groups that deal with physical, emotional, educational and recreational needs of children and youth, and grants funding based on criteria set by the Foundation's board.
In addition to a variety of fundraising activities by Canada Post employees, much of the money comes directly from the generous donations of customers and from the extra dollar paid on the purchase of the annual Foundation stamp booklet.
The 2014 Canada Post Community Foundation campaign runs from September 29 to October 26.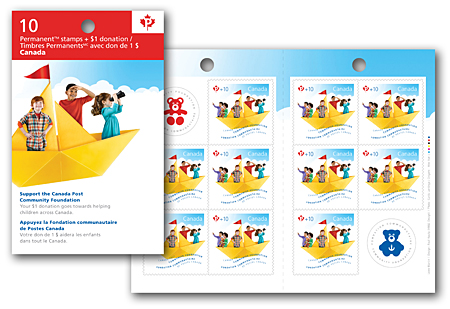 Booklet of 10 Stamps
$8.50
Product #: 413938111
Denomination: Permanent™ (domestic rate) + 10¢ donation
Design: Paul Haslip (HM&E Design Communications)
Dimensions: 32 mm x 32 mm
Printer: Lowe-Martin
Printing Process: Lithography in 6 colours
Quantity: 300,000
Gum Type: P.V.A
Photography: Curtis Lantinga
Shop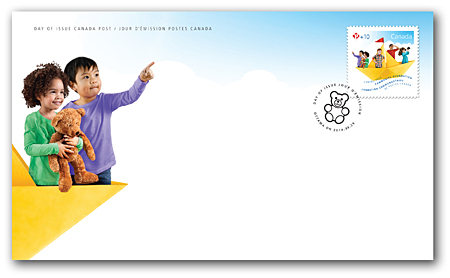 Official First Day Cover
$1.85
Product #: 413938131
Denomination: Permanent™ (domestic rate + 10¢ donation)
Design: Paul Haslip (HM&E Design Communications)
Dimensions: 191 mm x 113 mm
Printer: Lowe-Martin
Quantity: 11,000
Gum Type: P.V.A.
Photography: Curtis Lantinga
Shop