Wait for Me Daddy
October 04, 2014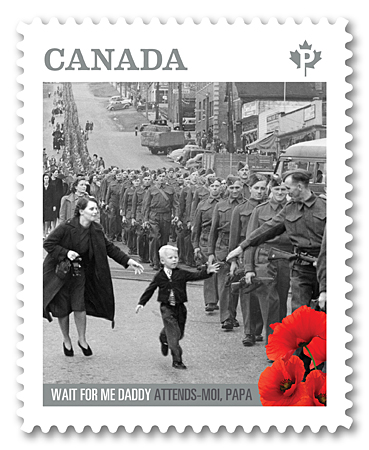 On October 1, 1940, Claude P. Dettloff, a photographer for The Vancouver Daily Province, was taking pictures of soldiers from the Duke of Connaught's Own Rifles as they marched to a waiting ship. Suddenly, a white-haired boy, only five years old, escaped his mother's grasp and raced to his father in the formation. Dettloff captured the poignant scene on film, creating what would become Wait for Me Daddy, the most famous Canadian photograph of the Second World War and one of the most recognized of all war photos.
This picture – and the yearning on the little boy's face – would become a powerful image for gaining support on the home front. The day after it had appeared in the Province, young Warren "Whitey" Bernard became famous. The arresting scene soon appeared in many other publications, including Life, Liberty, Newsweek, and Reader's Digest, as well as the Encyclopaedia Britannica Yearbook and countless newspapers. It even hung on the walls of every school in British Columbia.
Recognizing the strong impact of this touching moment frozen in time, the government relied on the photograph and its younger subject to successfully sell war bonds. Heart-rending ads featured the child pleading with Canadians to help "bring my daddy home." Happily, Whitey's father survived the war.
Today, Whitey Bernard is retired and lives in Tofino, B.C. After establishing a small marina, marine hardware store and fuel station, he married Ruby Johnson in 1964, then served in local politics as alderman and mayor.
This fall, the City of New Westminster raised a bronze statue at the bottom of Eighth Street, in Hyack Square, to mark the 75th anniversary of Dettloff's unforgettable photograph. Next year, the City will host a soldiers' march to commemorate the 70th anniversary of the end of the Second World War.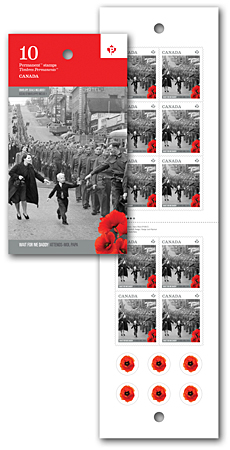 Booklet of 10 stamps
$8.50
Product #: 413969111
Denomination: Permanent™ (domestic rate)
Design: Susan Mavor (Metaform)
Dimensions: 28 mm x 35.778 mm
Printer: Lowe-Martin
Printing Process: Lithography in 6 colours
Quantity: 400,000
Photography: Claude P. Dettloff, staff photographer, The Vancouver Daily Province
Shop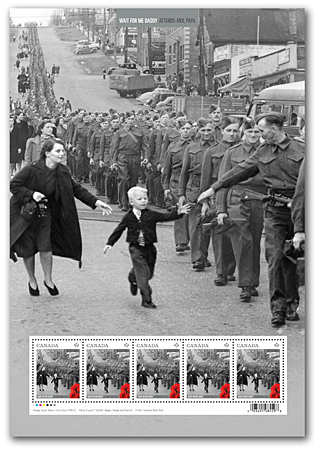 Special pane of 5 stamps
$4.25
Product #: 403969107
Denomination: Permanent™ (domestic rate)
Design: Susan Mavor (Metaform)
Dimensions: 165 mm x 241 mm
Printer: Lowe-Martin
Quantity: 75,000
Gum Type: PVA
Photography: Claude P. Dettloff, staff photographer, The Vancouver Daily Province
Shop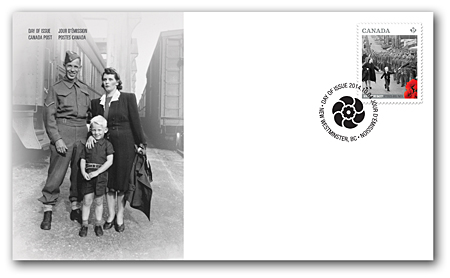 Official First Day Cover
$1.85
Product #: 413969131
Denomination: Permanent™ (domestic rate)
Design: Susan Mavor (Metaform)
Dimensions: 191 mm x 113 mm
Printer: Lowe-Martin
Quantity: 13,000
Photography: Claude P. Dettloff, staff photographer, The Vancouver Daily Province
OFDC Cancellation Location: New Westminster BC
Shop