Lunar New Year: Year of the Ram
January 08, 2015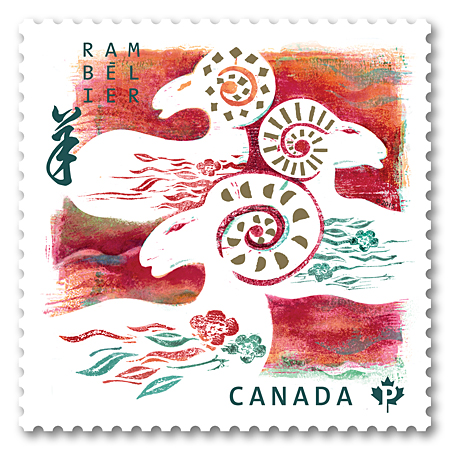 Singer-songwriter Joni Mitchell, big-screen scream queen Fay Wray, and former prime minister Pierre Elliot Trudeau – what do they all have in common, aside from being subjects of Canadian stamps?
They were all born in the Year of the Ram, whose next cycle runs from February 19, 2015, to February 7, 2016.
In Chinese culture, the ram – or male sheep – is a sacred symbol of good fortune, kindness and justice. Ancient Chinese literature often associates the ram with religion, law, ethics, politics, literature, art and folklore.
Those born under the influence of the eighth creature in the zodiac of lunar New Year are caring, sensitive (sometimes to the extreme), artistic, fashion-savvy and intuitive. They long for beauty, to see the world, and many have the special talent of being able to turn challenges into opportunities – qualities shared, to some degree, among the Canadian Rams we just mentioned.
Sheep are close relatives of the goat, a creature that holds a special place in Guangzhou (Canton), China, also known as "Goat City." The name comes from a tale of five goat-riding fairies that brought rice and everlasting fertility to the local people. Guangzhou's granite statue of five goats, which honours the legend, is a favourite among tourists, and locals believe that it brings them prosperity.
This Year of the Ram stamp issue is the seventh in a series of 12.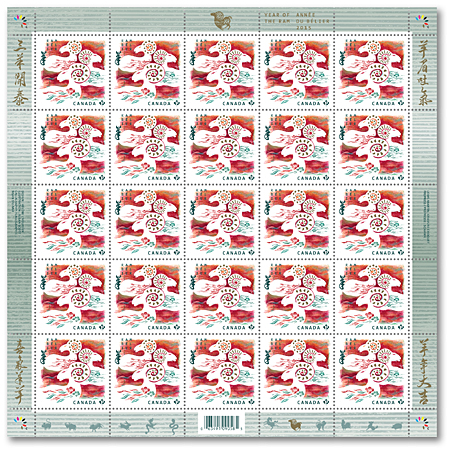 Product #: 403970107
Denomination: Permanent™
Design: Hélène L'Heureux
Dimensions: 32 mm x 32 mm
Printer: Lowe-Martin
Printing Process: Lithography in 7 colours, embossing, 1 foil stamping
Quantity: 125,000
Gum Type: PVA
Illustration: Susan Scott
OFDC Cancellation Location: Richmond Hill ON
Shop