Sir John A. Macdonald
January 11, 2015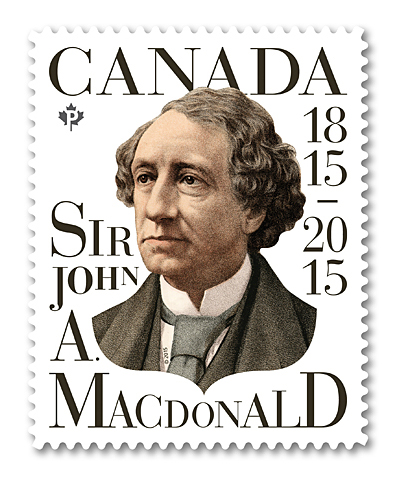 When Canada's first prime minister died in office in 1891, thousands paid their respects to Sir John A. Macdonald as he lay in state in the capital of the still-fledgling nation. Many more lined the tracks to watch the train that returned his body to Kingston, the Ontario city he called home.
People across this great land also celebrated Macdonald's success and character. His tireless work helped forge a loose collection of British North American colonies into a strong, self-reliant country. First appointed to his position as head of government in 1867, Macdonald shepherded the nascent nation for 19 years and spent four more as leader of the opposition – toiling diligently to lay the groundwork for many of Canada's most cherished institutions.
Issued on the 200th anniversary of his birth, this stamp celebrates Sir John A. Macdonald and his achievements that shaped our nation.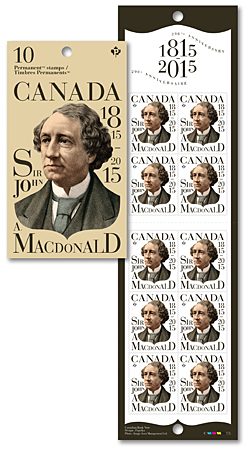 Booklet of 10 stamps
$8.50
Product #: 413972111
Denomination: Permanent™ (domestic rate)
Design: Paprika
Dimensions: 32 mm x 40 mm
Printer: Canadian Bank Note
Printing Process: Lithography in 5 colours
Quantity: 150,000
Illustration: Image Asset Management Ltd.
OFDC Cancellation Location: Kingston ON
Shop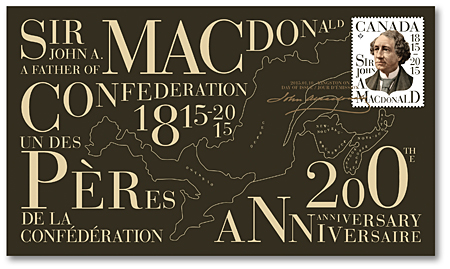 Official First Day Cover
$1.85
Product #: 413972131
Denomination: Permanent™ (domestic rate)
Design: Paprika
Dimensions: 191 mm x 113 mm
Printer: Canadian Bank Note
Quantity: 11,000
Illustration: Image Asset Management Ltd.
OFDC Cancellation Location: Kingston ON
Shop